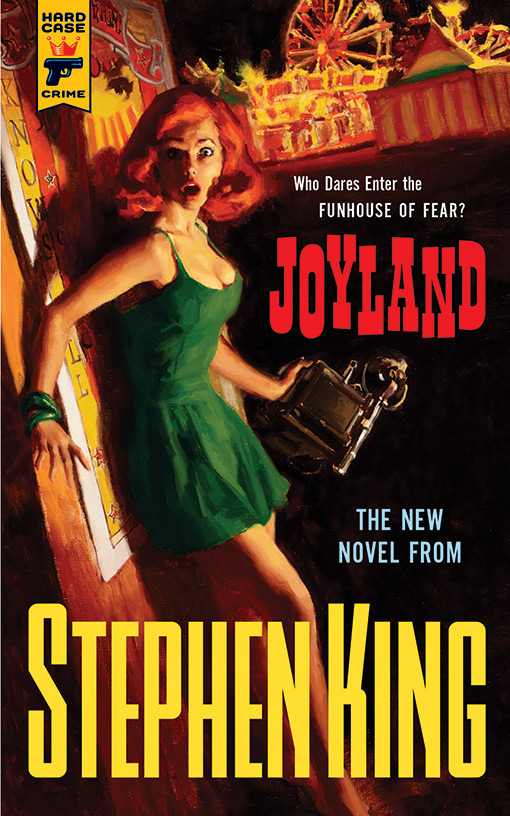 Eight years ago Hard Case Crime gave us
The Collorado Kid
. Now it's time for them to again release a new King book. This one is called
Joyland
and like with
The Collorado Kid
it's also a paperback release (a limited hardback will follow as well as an audio edition) with one of those covers Hard Case Crime is famous for. And like with
The Collorado Kid
Joyland
is a very special book. It's hard to classify the book. It's not horror and there aren't any monsters. There is a ghost but not a very scary one. What we get is to know Devin Jones during his summer of 1973 when he's 22 years old and working at the amusement park called Joyland.
While Devin works in the park he's told about the murder that was committed there, in the parks Horror House. He hears about the victim's ghost that's been seen in there, asking people for help. He gets to meet all the people in the park as well as Annie Ross and her son Michael who's really sick. We learn pretty early that he probably won't live that long but before he goes, he's determent to visit Joyland. And Devin is determine to help him do just that.
The book is like opening a window and looking into Devin's life for a short period of time…and then we leave him again. We get to join him during the worst and best summer of his life. And I for one enjoyed it tremendously.
Joyland
is a fairly short book (a very short book for being a Stephen King book) with just under 300 pages but all the things we expect is there. It's a solid King book that you can read in one sitting if you want but probably in two, three. The story is solid and affects the reader in a good way. It seems the collaboration between King and Hard Case Crime is a winning concept so let's hope they keep it up and that we don't have to wait eight years for the next book.
As mentioned
Joyland
is also released as an audio book and it's narrated by Michael Kelly and I think he does a good job telling Devin's story. The audio clocks in at 7,5 hours and if the book was doable in one sitting the audio is even more so. If you have a longer trip planned this one is the perfect company.
Lilja's final words about Joyland:
In case you want a hardback of this book a limited version is being released. It's quite limited though so get one fast if you want to make sure you get it. But no matter what version of it you choose I'm sure you'll love the story!