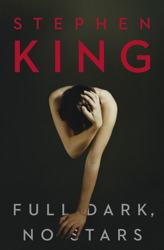 King's latest collection is called
Full Dark, No Stars
and contains four stories. The first one is called
1922
and is about a farmer family with a lot of problems. The mother wants to sell the farm and move to the city, the father wants to use the land and keep on farming like they always have. The son is caught in between and the effect their actions take is so huge no one of them could ever have anticipated what happens next. I like
1922
, it's not my favorite in the collection but I like it. It's well told and as usual with King's books and stories the characters are full of life and you can't help caring for them.
The second story is called
Big Driver
and is a very nasty story about Tess who get attacked by a man who beats her, rape her and then leave her for dead. She survives though and since she is a somewhat famous mystery writer she doesn't want it to be publicly known what's happened to her. Instead she decides she can take care of business herself. She can give herself the revenge she deserves. The story really affected me and even though it's a horrible story it's written in a way that keeps you glues to the pages. And the ending was somewhat of a surprise…
The third story in the book is called
Fair Extension
and is about Streeter who is very sick with cancer. On his way home one day he meets a stranger that offers him an extension to his life. This extension will give him at lead 15 more years and there are only two conditions. Streeter will have to pay this with 15% of his income for the next 15 years AND he has to send the bad that is lifted from him to someone else, someone he hates. Sounds like a hard decision? Well it is but personally I think that dealing with the consequences is worse. I really liked
Fair Extension
and finished it in one sitting.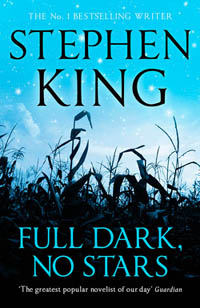 A Good Marriage
is the best story in the collection if you ask me. It's about Darcy Anderson who discovers her husband's dark secret. They have been married for well over 20 years but still she has no idea who her husband Bob really is and when she discovers the truth her entire world is turned upside-down. The story is really horrific but also extremely well told and a look at King at his very best.
Full Dark, No Stars
is a good collection. All four stories are well told and I like them all. The best one is, as I said,
A Good Marriage
and the weakest is
1922
but they are all good stories. At the end of the book we also get an afterword from King in which he talks about storytelling but also gives us a short recollection of how he got the ideas for the four stories we've just finished.
About the audio edition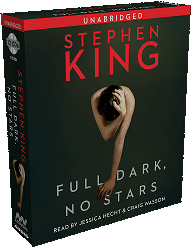 I have also listened to the audio edition of
Full Dark, No Stars
. It's narrated by Jessica Hecht (
Big Driver
and
A Good Marriage
) and Craig Wasson (
1922
,
Fair Extension
and the afterword). The stories are divided after its main character. Jessica Hecht narrates the once with female main characters and Craig Wasson the ones with male main characters which is good. They both do a very good job with it and as expected they have voices that work very well for narrating books.
The only thing that throws me of a bit with the audio edition is that it's not King that narrates the afterword. Knowing King's voice it's a weird feeling to hear Craig speaking like King…but I guess that was the only option… The afterword is however a very small part of the book so it's really not a big problem.
Lilja's final words about Full Dark, No Stars:
I'm not sure if Full Dark, No Stars is as good as King's other four stories collections. It feels like it is at the moment but to be fair the stories will have to sink in before we can give them a fair judgment, correct?