Haven - Episode 10
Posted: September 24, 2010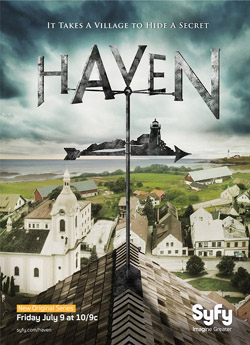 We're soon at the end of season one of
Haven
and now we start to get clues about The Colorado Kid. It's not much but things are starting to happen. We know the name of the woman in the picture, we know she is probably Audrey's mother, we know who the little boy beside her on the photo is and we know a little about the man who killed The Colorado Kid. But even so we know far from all we want to know about the Colorado Kid mystery.
I also think you can feel that the season is coming to an end in just a few episodes. Everyone seems more content with themselves and their surroundings. Audrey is accepting Haven, Nathan and Duke starts to get along…well, at least they except and somewhat respect each other. Things are settling down so to speak. Or maybe it's all a set up for a big cliffhanger in the last episode?
The story of episode 10, called
Hand You're Dealt
, is one of the strangest during the season and it's on the verge of being to strange. It works though but it's not my favorite episode. However I'm very glad we're getting more info about The Colorado Kid. It's been too easy to forget that this is based on a King book.
Some thoughts on the script…
It's not always easy to know what the writer has in mind. The final scene (well, the one that ends Matt's part anyway) in this episode is not very well described in the script. Here is what the script says:
"Audrey and Nathan reach the edge of the seating area but don't look back at Matt. Audrey just holds up her fingers in an "L" loser sign as they walk off.
Behind them, Matt YELLS with RAGE. And EXPLODES.
Audrey and Nathan stop, and he looks back at the flame and smoke billowing behind them. Fire SIRENS are already wailing."
I must say that I think there is more to the scene then that Matt just explodes but it's an example on how well director Rick Rosenthal sees Jim Dunn's script. Well done.
Lilja's final words about Haven - Episode 10:
Now I'm looking forward to the season finale and the episodes leading up to it. My guess is that there will be a lot of questions unanswered but hopefully some will be answered as well. We'll have to wait and see…