Haven - Episode 8
Posted: September 24, 2010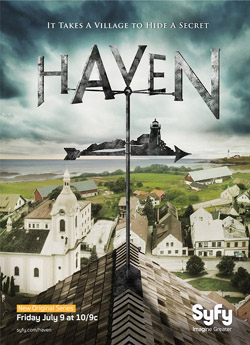 In episode 8, called
Ain't No Sunshine
, every King fan will recognize the reference to "The Dark Man" that's used in the episode. The Dark Man here isn't quite the same as in King's books though but the reference is there none the less. Here The Dark Man is someone that gets blamed for a lot of murders. No one has seen him clearly but everyone has a description of him and none of them are the same. So, what is The Dark Man? Well, you'll see…
Also in this episode Nathan gets more serious with his new love interest Jess and we get to learn that Nathan isn't feeling anything. I know he couldn't feel pain but I didn't know that he couldn't feel the touch on his skin or a kiss on his cheek but that apparently this is the case. That makes him very nervous when it comes to dating and being intimate with women...
Vince and Dave also get a bigger part in this episode. Not that they makes it go in a particular direction but they are there. Duke isn't though.
Ain't No Sunshine
is yet another episode where he's absent. I will admit that the episode works without him but I had expected to see more of him to be honest. Eric Balfour who plays Duke was promoted as much as Emily Rose and Lucas Bryant (Audrey and Nathan) was but they definitely get a lot more air time than he does.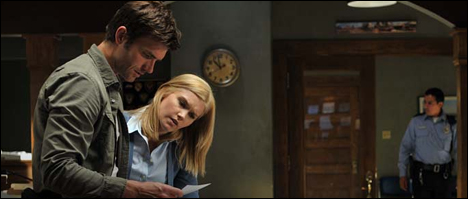 Some thoughts on the script…
For this script look I'm going to look at the different parts of the script. The first thing we get is a cover that tells us who wrote the script, who directed it and when it was written.
Next we have the cast list that lists all the characters and the person playing them. This is followed by a note to the directors and cast with some guidelines. After that we get a set list which tells us what interiors and exteriors are needed for the episode.
After that the episode itself begins with a teaser that gives us a first indication on what'll happen in this particular episode. It's followed by a number of acts and in between we get the commercials. The episode then ends with a fade out…
Lilja's final words about Haven - Episode 8:
This is a very interesting episode. I can't help wonder how much of The Dark Man is a flirt to the King fans watching the series and how much is because the name fits the character. Someday maybe we'll know…