Penguin Audio books 1 - 5
Penguin books have releasing ten of King's earlier books as audio books. Five in April and five in May and as most of you can probably tell this is quite unique. I can't remember a time when more of King's books have been released on audio in such a short time. Penguin was kind enough to send me copies of those audio books so that I could review them here on Lilja's Library. I have chosen to do so in two reviews. In the first I'll review those five titles that are released first and in the other the other five. I have done so because I suspect that most of you who read this already know what the books is about and that lets me focus more on the audio versions in themselves instead of going as deep into the plot as with a regular review.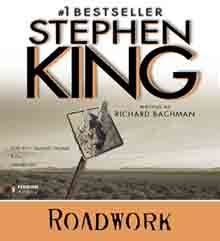 Of the first five three are old Richard Bachman books;
Roadwork
,
The Long Walk
and
The Running Man
. Then there's also
Cujo
and
Firestarter
. Among the three Bachman books, one is among my favorite King books and one is among my least favorite King book. Let's start with the least favorite.
Roadwork
is read by G.Valmont Thomas and is a story about a man's fight against the government. Dawes refuses to leave his house when a new road is supposed to be built right where he lives. His wife leaves him and in the end it's him against everyone else. It's not a very happy story and it's also not one of my favorite King stories. I can't really put my fingers on why I'm not all that found of it but it's still a fact.
As I said
Roadwork
isn't a favorite but G.Valmont Thomas narrates it quite well and actually gets me more interested in the book. Some of the voices he does are really good and he keeps the different voices just as different as they should.
The audio book is on 7 CDs and has a running time of 9 hours.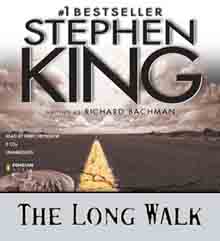 The other Bachman book, the one that I really, really like is
The Long Walk
. It's really just a story about boys walking and if they walk to slow they get a warning and if they do that three times they're shoot. The last one walking is the winner and gets anything he wants. It sounds very simple when described like that but the book has a lot of very well described charades that you as a reader grow very fond of. Definitely one of King's best books.
Kirby Heyborne who narrates the book has a perfect voice for narrating
The Long Walk
. He gives all characters a good personality and his voice is very nice to listen to. Heyborne's narrating fits one of King's best books like a glove.
The audio book is on 8 CDs and has a running time of 10 hours.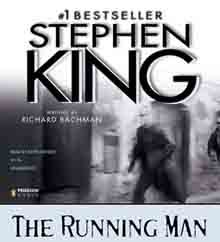 The last Bachman book of the three is
The Running Man
. It's set in a future not too distant from where we are today. A reality show called The Running Man gives people a chance to win money if they can stay alive. Ben Richards take the chance and we get to follow him as he fights to stay alive. I enjoy the book and it's fascinating to compare it to today's reality shows that even if they aren't as lethal as this one do have a lot in common with it.
It's narrated by Kevin Kenerly who has a very calm voice and his narrating is on the verge of being to calm but it works. It gives the book a feeling of storytelling that is a bit special but it works. He change his voice for the different character and what situation they are in and he does it well
The audio book is on 7 CDs and has a running time of 9 hours.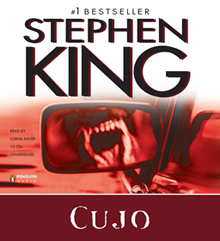 I don't think there's anyone who don't know who
Cujo
, King fan or not. He is the nice dog that gets rabies and goes crazy. And the really bad thing is that he goes crazy on the same day Donna Trenton and her son Tad gets stranded in their little car on the Chamber family, who own Cujo, driveway. Caught in the car, in the heat, fighting for their life.
Cujo
is the only of these five audio books that is narrated by a woman. Lorna Raver is her name but unfortunately I'm sorry to say that her voice doesn't really work all the way. When she is doing the voice of Joe she sounds all wrong. As a female voice it works but for men…it sounds a bit like a witch…
The audio book is on 10 CDs and has a running time of 21 hours.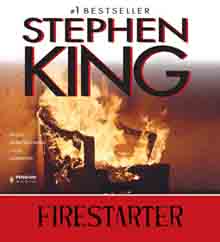 The last title is
Firestarter
which is about Charlie McGee who can start fires with her mind. Naturally the government wants' here to surrender to them so that they can test her and her abilities. The reason Charlie is like she is because you mother and father participated in an experiment. It gave them abilities that they then passed on to her. Charlie's father Andy does what he can to protect her but it's not easy…
The book is narrated by Dennis Boutsikaris who has a nice voice for narration. He doesn't give the characters as much of their own voice as other narrators might do but this time it still works. He still manages to tell the story as it should be told.
The audio book is on 16 CDs and has a running time of 13 hours.
Lilja's final words about Penguin Audio books 1 - 5:
Of these audio books my favorite is definitely The Long Walk but both Firestarter and Cujo was very fun to read (listen to) again. They are all worth checking out though so make sure you do so if you get the chance.