REVIEW
Soul Survivors
Posted: March 24, 2010
The third story arc of
The Stand
is called
Soul Survivors
and its five issues run are now at an end. During its course it takes the survivors from wherever they lived when the plague hit to Mother Abigail in Nebraska.
Each issue focuses on one or a couple of the survivors and the adventures they have on their way. Issue one focuses on Nick and Tom, issue two on Larry, issue three on Frannie and this issue is told much by entries in her diary. Issue four introduces us to Mother Abigail and in the last issue we get to see the survivors come together and start their journey for Boulder together.
Of all the comics based on King's books
The Stand
is one of my favorites. It's well written, well illustrated and well colored. It follows the book very closely and Mike Perkins has managed to get all the characters extremely close to the once described in the book. And to top that of we here in the third story arc get to read very focused issues and that I like.
The issues also contain a lot of bonus material. We get to see stuff like sketch versions of covers and pages from the issues as well as interviews and retellings on how the issues where created, from script to finished issue. All this is a very good compliment to the comic itself.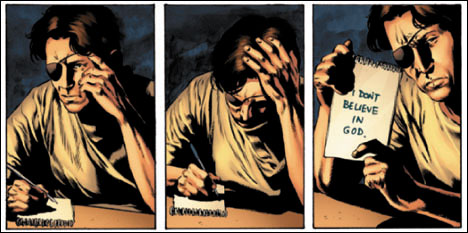 Lilja's final words about Soul Survivors
The third story arc
Soul Survivors
is an excellent piece of work and I really enjoyed it. Now I'm looking forward to the next arc and to see where that takes the story. And that's even though I know what's going to happen from reading the book…