REVIEW
UR
Posted: March 4, 2010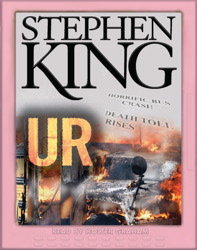 King's
UR
has finally been released in a format that every fan of King's work can enjoy. Until now it's only been available for Amazon's Kindle which is an electronically device that you can read on. This is the same device that our mail character in the story, Wesley, get's himself after his girlfriend walks out on him because he will only read real books that you can turn pages on and not the electronically versions. Crazy reason but that is the case here.
So, in an effort to get back on her, for leaving him, he gets himself a Kindle. When it arrives he notices that it's pink instead of the regular white. But that's not all. His has a function called UR that is all but standard on the Kindle. With this function he can access books from more than 10 million different worlds. In them he finds known and unknown authors and in each world they have written different books. Wesley finds books he has never heard of before and at first he thinks he is in heaven.
Then when he notices that there is a news section (and a local news section) he starts to regret that he got the Kindle and that he tried the UR functions. In the news from the different worlds some events are the same, some are different and some are pure catastrophically. And when it comes to local news he finds that he can only access news from coming dates. The Kindle gives him a chance to look into the future and the future isn't telling him what he wants to hear, far from it…
I like
UR
a lot. The only thing that I have some problems with is the reason Wesley gets dumped. Who dumps someone because they only want to read real books? Well, that probably isn't the entire issue but it still feels a bit weak. On the other hand Holter Graham does a really great job on the narrating. He has a great voice and it fits perfect for narrating books.
UR
is a great story and it fits like a glove in the audio format.
Lilja's final words about UR
One of the things that struck me while listening to
UR
is the pronunciation of
UR
. It's nothing like I expected…