Under the Dome
Posted: December 10, 2009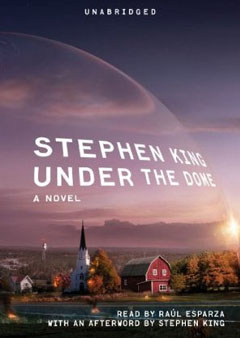 The first thing that struck me when I got the MP3 version of
Under the Dome
was the packing. It's packed on three discs and in what looks like a DVD box and a really nice cover. I have always thought that MP3 books were something you downloaded but this is a real edition, and I like it. With that said, on to the book itself.
The audio edition of
Under the Dome
is narrated by Raúl Esparza and he is doing a really good job with the book. He gives every character its own personality and as most of you probably know there are a lot of characters in
Under the Dome
.
The running time of the book is approximately 35 hours so you are in for a long ride, but what a ride. In
Under the Dome
King tells the story about the small town Chester's Mill who one day is sealed off by an invisible dome. No one knows why or by whom. All they know is that they have to get out and soon. Or rather, some of the trapped knows they have to get out. Others, like Big Jim Rennie sees the dome as his chance to get rid of all his dirty laundry. And Big Jim likes to be in charge. Against him, on the good people's side, we have Dale "Barbie" Barbara, an ex military that later on is selected by the President to run things in town. Too bad Big Jim doesn't listen to the President…
At the end of the book we get the author's note read by King himself and even though Raúl Esparza does a very good job narrating the book it's always nice to hear King himself doing that authors note. I like the book and I like Raúl Esparza's narrating. He has a good voice and as I said manages to make each character unique. The combination of King and Esparza makes
Under the Dome
pure joy to listen to.
Lilja's final words about Under the Dome:
If you haven't already I'd give the MP3 edition a chance. Or the CD edition if that works better for you. The main thing is that you listen to this audio edition of Under the Dome!