REVIEW
The Road of Trials #0 (b/w)
Posted: August 12, 2009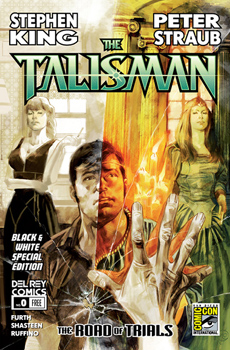 The latest Stephen King comic is here, or at least a taste of it. This time it's King's collaboration with Peter Straub,
The Talisman
, that's been turned into a comic. The first issue in the first story arc, called
The Road of Trials
, isn't released until later this fall but a black and white special edition of a prequel issue, issue #0, was given out for free at this year's Comic Con and I have taken a closer look at it.
The difference between this special issue and the one that will be released later on is that this is all in black and white except for the last page. The later (regular) version of issue #0 will be in full color though. It's also quite short with its 16 pages but my guess is that the regular issues will be longer.
This issue #0 is, like I said, a prequel to the series and it deals with Jack Sawyer's dad Philip Sawyer and his twinner. We get to see Philip's conflict with Morgan about brining electricity to the Territories and we also get to see the grim faith Philip and his twinner faces at the hands of Morgan. Those of you that have read the book know what I'm talking about. It follows the book quite well even thought it happens a lot faster here.
What about the feel of the comic adaptation then? Well, it's done in a different style from the other King comic adaptations and it's a bit hard to get the full feeling for it when it's as short as this one is and all in black and white but still, I'm getting a very good feeling while reading it. I did however not know that the coloring would make such a difference. But if you compare the black and white pages with the last one in color it's a world of difference. The black and white looks almost like the comics you see in the daily papers, which some like and some don't, but either way the colored pages are definitely livelier.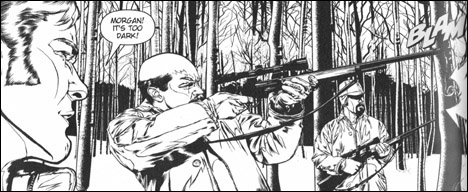 Lilja's final words about The Road of Trials #0 (b/w)
The Talisman
is one of King's best books and it looks like they have captured the books spirit quite well in the comic, which is promising for the future.