REVIEW
Fall of Gilead #3
Posted: July 29, 2009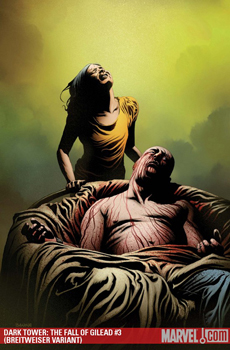 This issue should have Death as its title because that's what it's about. Cort's time is finally up and with Aileen by his side he takes his final breath. Bert's father is brought back to Gilead, dead. Vannay is murdered as he is preparing Cort for his last journey. As you can see, death is very present in this issue and my guess is that there will be a lot of revenge in the future…
We also get to see Aileen as she takes the final step towards becoming a gunslinger. She makes some decisions that she hopes will make the other gunslingers see her as a gunslinger and not a woman. That they will recognize her for her skills and not her gender.
On a happier note Bert and Alan also finds Sheemie in Gilead. Sheemie is, in his childish way, very happy to see the boys and personally I'm very curios to why he has wandered all the way to Gilead to find them...
The bonus text this time deals with women in comics and how the women are portrayed by Robin Furth, interesting reading. We also get to see the layout for the pages in the issue. These are then used by Peter Davis to script his dialog. It looks quite different then the finished version that's for sure.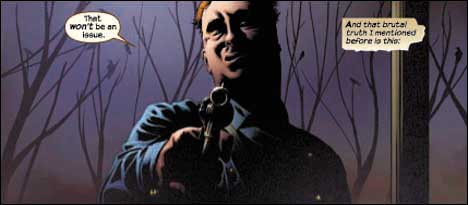 Lilja's final words about Fall of Gilead #3
I think Richard Isanove is getting more and more into
The Dark Tower
and even though the characters are a bit different then Jae Lee's versions of them I like them.