REVIEW
Treachery #4
Posted: January 3, 2009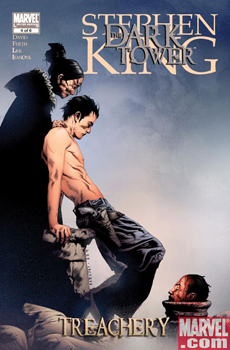 Issue #4 is here and it seams that everyone is betraying everyone. Roland's mother is still with Marten and together they plan the biggest betrayal of all. Justus, who Steven trust, is definitely not a friend and on top of that Steven feels Roland has betrayed him by not telling him about Maerlyn's Grapefruit which he brought with him on his arrival.
After Roland sees his father's faith in the Grapefruit and almost kills Alan and Bert when he thinks he is aiming for Rhea he decides that it's time to give it to his father. It is now up to Steven to decide what to do with it and even though I think he will do a better job then Roland did you never know. He could easily fall for the temptation…maybe check up on his wife?
Even though it's only a small part of the issue the thing that gets to me the most is Gabrielle's treachery toward Roland and Steven. I know she had a special bond to Marten but I never thought she would go this far. It's the ultimate betrayal.
The history lesson this time is called
The Manni,. The Touch. The Tower. And the Rose
and the fact part shows us how a page goes from start to finish…almost. We get to see some early versions of some of the pages in this issue as well as Richard Isanove's variant cover in early stages. Personally I always feel it's interesting to see how a page came to look like it does and besides the early sketches we get here I'd also love to see what the manuscript of an issue looks, the one Robin Furth hands in before there is any sketches… Maybe next time?
We also get the second part of the interview with Robin Furth.
Lilja's final words about Treachery #4
This issue could be seen as some kind of buildup for the story arcs final two issues where I personally think big things will be happening but it's also a very interesting issue in itself…as usual.