REVIEW
The Stand - Sketchbook
Posted: July 3, 2008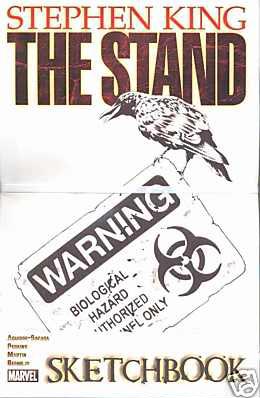 I just love these sketchbooks. They give you a hint on what the comic will look like and also give you a look into what the artist was thinking when he did the sketches. In this one Mike Perkins (pencil & Ink) is very open to letting us know what was going on when he did the different illustrations.
The sketchbook also gives us a hint that the first, five issue arc, will have each issue concentrating on different characters and give us their history. Issue #1 is Flagg's, off course, issue #2 deals with Stu, Fran and Harold, issue #3 Larry, issue #4 Trashcan and issue #5 Nick and Tom if I interpreted Mike's comments correct. This sounds like a very good idea and a nice touch is that the five different covers combined will make one large image including all these characters.
When reading the commentaries from Roberto Aguirre-Sacasa (writer of
The Stand
) and Mike Perkins I get the same feeling as I get when I check out the behind-the-scenes documentaries that often appears on DVDs nowadays. It's very interesting to hear how, and why, things ended up the way they did.
In the sketchbook we get to see and hear how Flagg, Frannie, Larry, Nick, Trashcan Man and Stu came about and I must say that they all look very good and very much as I had imagine they would look. I especially like what Mike did with Trashcan Man, he really looks crazy. And Flagg…here they have really captured the evil that he is. As you know there's a lot more characters in the story and I'm sure we're going to get to meat them all later on and personally I can't wait to see what they have done with Mother Abagail.
Lilja's final words about The Stand - Sketchbook
This sketchbook is an excellent compliment to the comic and also a chance to get a sneak peak of what we'll hold in our hands a few months from now. After reading the sketchbook I have a very good feeling about
The Stand
comic and I would be very surprised if it's not a new success for Marvel!