REVIEW
Locke & Key #3
Posted: April 8, 2008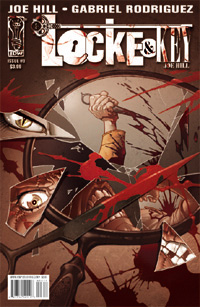 The third issue of
Locke & Key
focuses primarily on Kinsey and how she is coping with the murder of her father and the relocation they have just been through. We get to see her fear of not fitting in and her fear of letting someone getting to close to her past. This is very well portrayed in both the script and the illustrations.
We also get to see Bode trying to convince her that he can go through the door and by doing so becoming a ghost. Of course she doesn't believe him, even though he shows her. Soon though they forget the doors, soon they forget becoming ghosts. It happens when they find out that Sam Lesser, the man that killed their father, has escaped from prison. Police don't think that he is going after them but we, the reader, knows better…
I like issue #3 as much as the previously two but I hope they will start using the doors in issue #4. I'm extremely curious to what Joe Hill and Gabriel Rodriguez will come up with for when they finally do. What ever it is I have a feeling it's going to be good.
As usual the script and the illustrations are as good as we have all come to expect of Hill and Rodriguez by now and I can't see how anyone would be anything else that happy with issue #3 of
Locke & Key
. So, check it out while there are still copies left…
Lilja's final words about Locke & Key #3
I really didn't know what to expect when I started reading
Locke & Key
. The word about it sounded very good and after reading the first three issues I can only state that it's even better then I thought it would be.