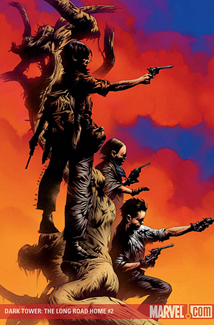 The second issue of
The Long Road Home
continues where the first ends. Roland is trapped in Maerlyn's Grapefruit and his two friends are fleeing for their life with the posse from Hambry on their heals.
Inside the Grapefruit Roland is fighting a battle against Marten that almost cost him his life and destroys the Grapefruit itself.
Bert tries to lead the horses over a claptrap and is almost successful. It's very fortunate for Roland that his friends are so fast even though they aren't "real" Gunslingers yet. If not for them Roland would be dead and his hunt for
The Dark Tower
would never have happened.
As usual the issue is masterfully illustrated by Jae Lee as well as colored by Richard Isanove. These two together with Robin Furth and Peter David have really found each other and they are now working as one. Each issue is getting better and better and the expectations gets higher and higher for each issue they produce. And it's very rewarding to be able to tell you that they really are living up to the expectations put on them.
It's also really nice to see that they are leading the story in
The Long Road Home
down the right path even though King isn't involved any longer. Or not as much involved as with
Gunslinger Born
which they did based on his book. He has still set up the guidelines for the work and I guess that he might have the final say on some things but so far I bet he is very happy!
They issue also features the history lesson
Welcome to the Dogan 2: The Evil Uffi
that tells us a about the disappearance of King Arthur and one of the first doors to appear in the tale of Roland's ancestors.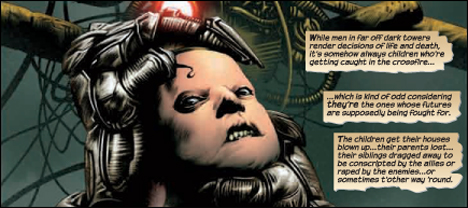 We also get a Q&A with Peter David and Robin Furth in which they tells us about some of the things we can expect in upcoming issues. That along with some sneak peaks at two sketches really makes me look forward to upcoming issues.
Lilja's final words about The Long Road Home #2:
The issues in the series just keeps getting better and better and for each issue I say to myself that this has to be as good as it gets. And I'm wrong every time!