REVIEW
Locke & Key #1
Posted: February 28, 2008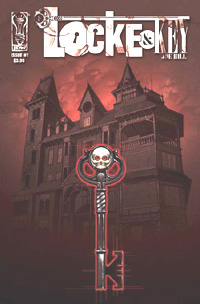 Joe Hill had a big success last year with the release of his book
Heart-Shaped Box
and now he's back. This time with a comic book. That doesn't mean that it's any less good though. Quite the different;
Locke & Key
as is its title is a very good comic.
The script for the comic is done by Hill and the illustrations are done by the very talented Gabriel Rodriguez. The story in
Locke & Key
revolves around three kids that are left orphaned when their parents are killed by two crazy robbers. The kids moves into this New England mansion where they find all these doors that opens to very strange places and when they pass through, transforms them into someone else.
This is not something we get to see in issue one though. Here we get to see how they end up in the house after they have buried their parents. Throughout the entire issue the present story is very well interrupted by flashbacks to what happened when the kids' parents are killed and I must admit that I really like the mix of present and past and how the reader is thrown back and forth. It's very effective.
When you read the story it's also very easy to see why Hill's book
Heart-Shaped Box
was such a success. Hill is really talented with the language and has a way of expressing the characters feelings in text so that it grabs hold of the reader. That feeling is very much present here in the comic.
Hill's text is also very well suited for Rodriguez illustrations and they make a very good team. One of my favorite parts is when Tyler is sitting in the hallway after the funeral and people come and go as well as past and present; excellent use of illustrations.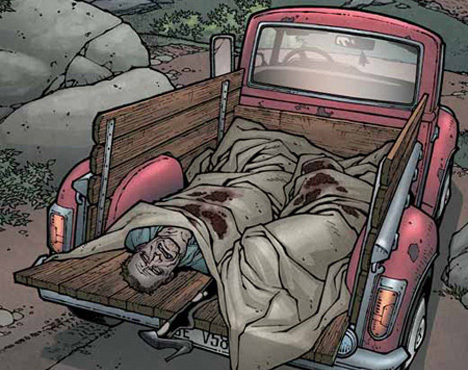 And now that we have seen the first issue I can't wait to see what happens in issue two. We get a pretty interesting cliff-hanger at the end of this issue and since it was pretty much an introduction to the characters and their destiny issue two should let us see more of what's behind all those doors…
Lilja's final words about Locke & Key #1
It's impossible to not wanting to compare
Locke & Key
with
The Dark Tower
comic (for obvious reasons) but I just can't do it. While both comics are very good they are also so far from each other in style that it's impossible to compare them.
I suggest that you pick up your own copy of
Locke & Key
and see for yourself!