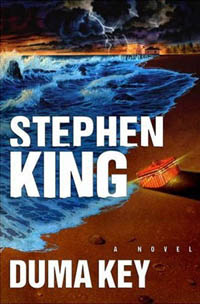 King's latest book,
Duma Key
, tells the story about Edgar Freemantle; a building constructor until one day when his car (with him in it) is crushed by a crane. Edgar loses one arm and spends a lot of time in the hospital after the accident. As he gets better he also learns that he has a problem with finding the right word as well as controlling his temper.
After he tries to strangle her, his wife Pam, leaves him and Edgar finds it harder and harder to see a meaning to get up in the mornings. That is when his doctor suggests that he finds something to do that really makes him happy. The only thing Edgar can think of is painting.
Newly separated both from his wife and his right arm he moves from Minnesota to Duma Key, Florida to start his "new life". There he takes up painting and to his surprise he is far more successful then he could ever dream of.
While at Duma Key he gets to know Jerome Wireman and Elizabeth Eastlake. Wireman is taking care of Elizabeth who is sick with Alzheimer's disease. Edgar himself gets his help from Jack Cantori; a young man that helps him with what he can't do himself with one arm missing. They all soon become very good friends and especially Edgar and Wireman develops a very special relationship.
During all this time Edgar paints like crazy and soon he realizes that his paintings are special, that they are a way for him to see what has happened in the past but also a way for him to change the future. The only problem is that Edgar doesn't know if his new found abilities are a good thing or not. Not until he sees the two dead twins…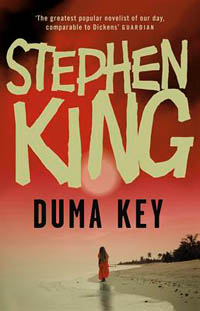 Duma Key
is a very strong book and if I should compare it with other books by King it would be
Bag of Bones
and
Lisey's Story
. I get somewhat the same feeling when I read
Duma Key
as I got when I read
Bag of Bones
.
Duma Key
is definitely a ghost story but not only a ghost story...
We get the story told from Edgar's perspective but also in chapters called "How to draw a picture" that tells the background story to what is happening at Duma Key. The first part of the book is kind of easy going and we get to know all the characters; who they are and how they ended up where they are today. Then in the second part things get intensified and you are swept in to the story in a way that makes it hard to put the book down.
Another thing that impresses me with
Duma Key
is the depth of the characters, especially Edgar, Wireman and Elizabeth. You really feel for them and you also get a very good feeling about them, a feeling that makes the second part of the book so much sadder.
As usual there is also an audio edition and
Duma Key
is very satisfyingly narrated by John Slattery. He really makes the characters come to life and lifts the story to new heights with his narrating. His voice and narrating style is perfect for books like
Duma Key
and I wouldn't be surprised if we'll find him narrating more King books in the future.
Lilja's final words about Duma Key:
Duma Key is a very good book and John's narrating does the audio edition justice in a very satisfying way. It's a ghost story but also a rather sad horror story and it really show King's strength as a writer and storyteller. Duma Key is a book you don't want to miss!



"God punishes us for what we can't imagine"
Wireman (Duma Key)