REVIEW
El Sueño de Harvey
Posted: September 25, 2007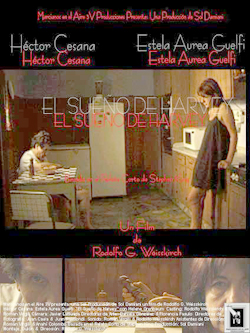 I have just seen
El Sueño de Harvey
or
Harvey's Dream
as the original title is. Unfortunately this one is in Spanish and the fist time I saw it I didn't know it had English subtitles. I didn't understand a thing and with a non-action based movie like this you are bound to lose everyone that doesn't speak Spanish...
I then found the subtitles but unfortunately it's still very slow and not much really happens during the approximately 15 minutes that is its runtime.
I really don't think this movie would have been better if it were done in English. I really doubt if this really is the right story to turn into a movie? I have no doubt that Rodolfo Weisskirch is a talented filmmaker, or will be so when he gets more practice but if a story is rather slow maybe it's better if it stays on paper and not wanders of to the movies? I think
Harvey's Dream
is that kind of story.
For those of you that don't know I can tell you that
Harvey's Dream
is the story about Harvey how has a very bad dream in which his daughter calls him to tell him that his sister has died. A very dramatic but not cinematic story I'm afraid.
Lilja's final words about El Sueño de Harvey
Even if this movie is quite nicely shot it has everything going against it. It's based on a story that might not be the best/easiest one to turn into a movie, it's in Spanish and it's really slow. All this shows very well when you watch it and it also makes it very clear how important it is to choose the right story to adapt…