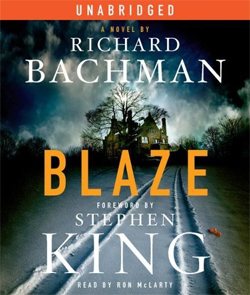 Richard Bachman is back from the grave…well, sort of. His latest book,
Blaze
, was written in the early 1970's, over 30 years ago. When King found it he edited it some before he published it and both he Bachman has been very careful not to reveal what year the story takes place. It never mentions an exact date for an event but President Ronald Reagan is mentioned so if you want to calculate the approximate time, you probably could.
The story is about Clayton Blaisdell, Jr or Blaze as he is called by his friend and his partner George Rackley. They are small criminals that mostly deal with cons but now has decided to do the big one. The last hit and then they'll be able to retire. They plan on kidnapping the small child of a wealthy family…
The only problem is that George now only exist in Blaze's head. In real life he is in fact dead. Blaze goes trough with the plan anyway and even though he isn't very smart he has the luck he needs to be successful in grabbing the baby.
Now he just have to find a way to get the ransom money delivered without getting caught and then return the baby. Or maybe he should keep the baby. After all, he is starting to get rather attached to him…
Even though
Blaze
is an old novel it feels very fresh. I'm not sure how much King edited it before he released it but it feels new. Personally though I think it's more King then Bachman. The other Bachman novels where all more critical to the US society, something
Blaze
is missing. Still, its fun that it's released as a Bachman book. I like Bachman.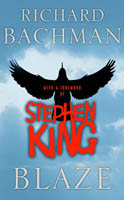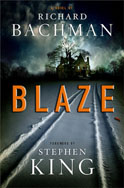 It's revealed pretty early though (in the foreword in fact) that it's really written by King and not Bachman. If there is one thing I want to change with
Blaze
it's that it should have less mention of Stephen King, like
The Regulators
had. That one was more a Bachman book while
Blaze
is a King book, even though it's Bachman's name on the cover.
Still though, it's the story that matters and the story of
Blaze
is very well told and it deals as much with the kidnapping as with Blaze's background. Bachman/King switches between the two times in a very effective way.
The audio edition is read by Ron McLarty who is a master, if not the master, on narrating books. The only one beating him in reading King's book is King himself if you ask me. He has a voice that's perfect for narrating and you can really feel that he is putting his soul into giving the characters their own personality.
Lilja's final words about Blaze:
Blaze is a very good book and a very fast read book. It's just under 300 pages long so you read it pretty fast. It's non the less a very good and it gets it's hooks in you from page one and doesn't release them until you're done…just as a good book should. All I whish for now is that we'll get to see more of Bachman in the future…