NEWS - THE TALISMAN 3
Posted: July 3, 2012, 14:37:05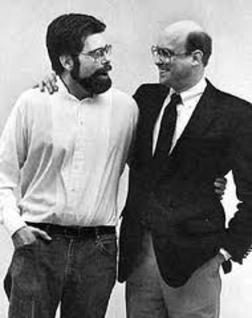 With so many new editions of The Talisman and Black House being released the speculations about if the third book is finally being written has once again started. So, I thought that who better to ask about this than Peter Straub. He should know, right? Well, I sent him an email asking if he and King was any closer to writing the third book about Jack Sawyer and got a reply within the hour. This is what he said:


Sorry, Lilja, plans for the third book have gone no further than before. The new editions of the first two came about because the 10-year licenses on the previous editions came to an end, freeing us to sell the books all over again.

So, there you have it. Despite new editions of the first two books we are far, far away from knowing how the tale of Jack Sawyer ends…
Posted: February 9, 2012, 21:14:46
The moderator of King's official message board had the following answer to whether King and Straub has started to work on The Talisman 3.


Stephen and Peter haven't been able to coordinate schedules to begin working on the third book as they've each had other projects that needed their attention. I don't know if they have discussed plot development yet but even if they had, it would probably be too early to release any info.

Posted: December 24, 2009, 23:41:25
Peter Straub wrote this on his Twitter:


And for those who care, no worries. In about a year SK and I will begin planning a new book.

Thanks to Bev Vincent
Posted: May 6, 2009, 22:58:15
In an upcoming interview in Cemetery Dance #61 (shipping this summer) Peter Straub talks about the third Talisman book.


Cemetery Dance: Are you going to do a third book with Stephen King?

Peter Straub: We plan to. We were going to start right about now, but King got sidetracked by a Broadway musical that he was writing with John Mellencamp. So that's been taking shape. And I think they were having out-of-town tryouts this autumn. Then we'll see what happens. But at some point we'll get back to it, because we have to. It's like two-thirds of a long, long story, and the other part really should be done.

Posted: April 8, 2009, 12:40:45
Bev Vincent reported this in regards of the Writer's Digest: An Epic Conversation on Writing:


Lanny F. McKay tells me that one of the King's most interesting quotes was about how he has occasionally enjoyed the collaborative process, "enough so that Peter and I will probably write the third and last Talisman boook in one or two years."

Posted: October 16, 2008, 15:15:11
Peter Straub mentioned The Talisman in a recent interview:


Are you ever going to do a third Talisman book with Stephen King?

I believe so. Steve and I agreed years back that we would do a third one, and that would be it, because Black House virtually sets up, and all but promises a follow-up. And then we would have a three-volume fantasy novel. That's perfect. That's probably what it wanted to be from the beginning.

Read the entire interview
here
.
Thanks to Bev Vincent
Posted: November 1, 2006, 22:19:39
A poster at TheDarkTower.net said that King was asked about a third book in the Talisman series. I assume it was at one of the readings he has done in the US.


King replied that yes he has spoken with Straub. At the end of Black House Jack is dying in our world and goes to the territories. King sees a story where Jack has to return to our world, must only do so in brief periods as it accelerates his death. In King's words: "sort of a '24' thing".

Thanks to Bev Vincent
Posted: November 16, 2005, 23:34:56
I spoke with Peter Straub today and took the opportunity to ask him about the 3rd book about Jack Sawyer. He told me that he and King want to do it and that it might happen in four to five years.
Posted: November 8, 2004, 23:33:37
Here is more info in the ongoing question if there will be a Talisman 3. This is from the message board on King's official site:


Question I recently read an interview in which Peter Straub said there will be a third book in the Talisman series.

Response from Moderator Stephen would agree that there are plans for one--it's more a matter of when.

Posted: October 7, 2004, 23:30:40
Is King opening up for a third Talisman book? Well, this quote is from the message board on King's official site and is the answer to all the questions about Jack Sawyer they get:


Since there have been so many inquiries, I asked Stephen about this and his response is: "People who are interested in Jack Sawyer, don't lose hope that you will see him again."

Posted: November 9, 2001, 23:29:50
In interviews (you can find one of them in The Interview Section) Peter Straub has said that he and King probably will write a third book about Jack Sawyer and now, according to a post in SKEMERs, he said (at a signing in Mequon, Wisconsin yesterday) that King and he hope to write another book in "around five years".

This means that we could have The Talisman 3 around 2006 or so...