My thought on Under the Dome...or not
Posted: June 12, 2013, 12:25:46
Many of you have emailed me asking "when are you reviewing the pilot of Under the Dome?", "when are you going to tell us if Under the Dome is a must or not?", "how well are they following the book?" Well, I would do that right here and now if I could but (unlike channels like ABC, TNT, A&E, USA and so on) for some reason CBS doesn't feel that Lilja's Library is the right place to have the latest Stephen King TV series reviewed. So, no screener will be sent and I won't see the pilot until it airs and by then you'll know for yourself if it's as good as people are saying or not. I will however keep you as updated as I can but there won't be an early review this time.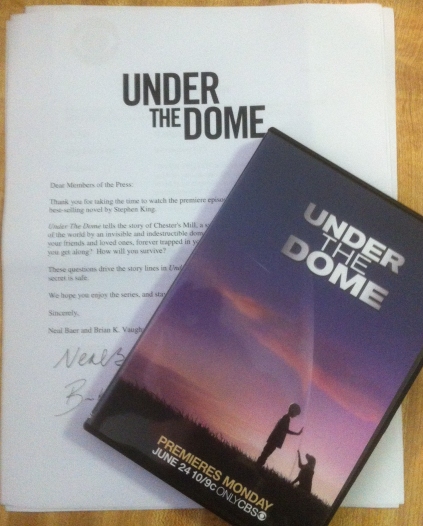 Now, if you live in or near Wilmington, North Carolina you might get the chance to see the pilot 4 days early. The town, where the first season was shot, is holding a free screening of the pilot on June 20th. Tickets will be given away on-line through a local radio station's website.



Tickets for a free screening of "UTD's" pilot in downtown Wilmington on June 20 are limited and will be available only through radio and television giveaways, CBS announced Tuesday.Passes for the event, which will be held at 6:30 p.m. at Thalian Hall's main stage, 310 Chestnut St., will be doled out daily online at WILM-TV.com through Wednesday, June 19. Fans also can win tickets by tuning in to WAZO-FM (Z107.5), WRMR-FM (Modern Rock 98.7) and WMFD-AM (AM630 ESPN Radio) for giveaways. The screening will kick off at 5:30 p.m. with the red carpet arrivals of cast members Dean Norris ("Breaking Bad"), Rachelle Lefevre ("Twilight"), Mike Vogel ("Bates Motel"), Natalie Martinez ("CSI:NY"), and Britt Robertson ("The Secret Circle"). The series' producers also will be on hand for a Q&A session after the showing, including Stephen King, Brian K. Vaughn ("Lost"), who also wrote the pilot, Neal Baer ("Law and Order: SVU"), and Jack Bender ("Lost"), who serves as the show's producing director.