Posted: June 19, 2012, 22:42

_

OK, it's once again contest time here at Lilja's Library and this time I have put together a prizepack from my personal collection that I think most of you will find exciting. Here is what I have put together for you.

One lucky winner will get…

…a US hardcover of The Dark Tower 5 – Wolves of the Calla that's flatsigned by non other than Stephen King himself. This book was sent to me from King's officie years ago so it's no doubt that it's the real deal.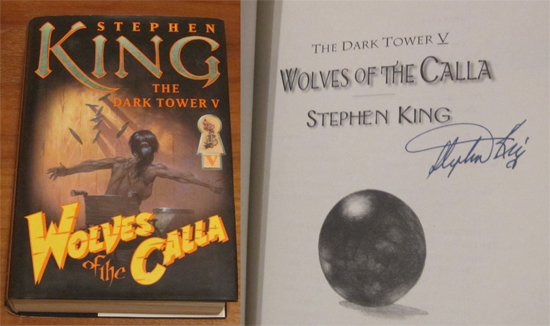 …a paperweight that was given out at the publisher party, arranged by King's UK publisher Hodder & Stoughton, in London when King was there promoting Lisey's Story back in 2006. They only did 500 copies of it so it's definitely a collector's item.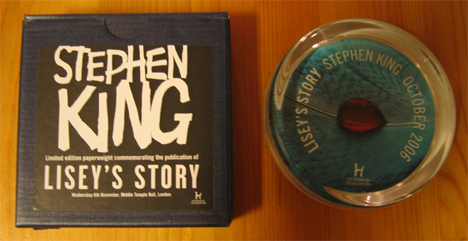 OK, what's the catch you might ask? How can you win this prizepack? Well, since I want to give this to one of all you loyal fans that's been supporting me for all the years I'm going to try to do just that. Here are the three ways you can win:

The twitter way to enter:
1) Follow @liljaslibrary on twitter.
2) Cut and paste this on twitter (each post will be a entry):
Win a signed book by Stephen King! Retweet this to win! Follow @LiljasLibrary to be eligible http://liljas-library.com/article.php?id=3178

The facebook way to enter:
"Like" Lilja's Library on facebook and then "Like" and/or "Share" at least one of my post (each Like or Share will be one entry).

The "speak your mind" way to enter:
Leave a comment to a piece of your choice here on the site (each comment will be an entry).

You can enter as many times as you like but you have to do it before July 31st. I will then present the lucky winner on August 1st!

Before I let you head out to enter I want to ask a favor of you. As you know I have never charged you for anything here at Lilja's Library and I never will but since these items are pretty heavy and it will cost me quite a few $ to send this somewhere in the world. Yes, this contest is open to anyone, anywhere in the world I'm going to ask you to please consider stopping by the Donation page. It's not required to enter and whether you do or not will not affect your chances to win BUT if everyone who enters donates $1 it would help me cover the cost for this contest...