HISTORY
Lilja's Library
was first created back in 1996. The first version didn't even have a name (and very few images). It had red printing on black background as many sites did back then (unfortunately no version of this one or images exist today). About a year later the first change of the site was done (see the first image). The design was still the same but the colors where lighter and there was now a background image instead of the black. Many of you probably recognize it from the US hardback edition of
Bag of Bones
.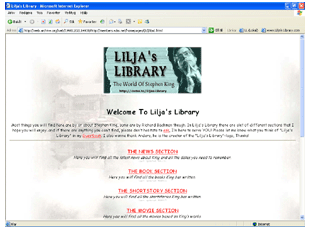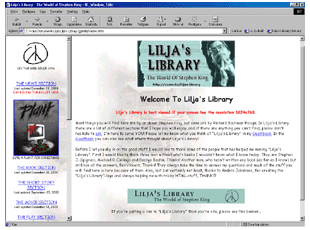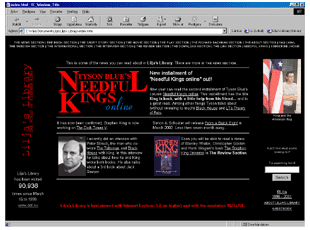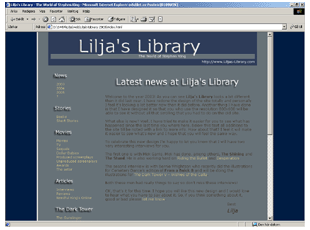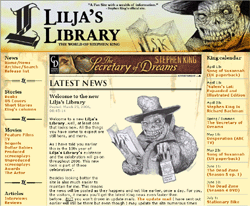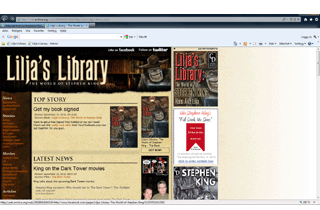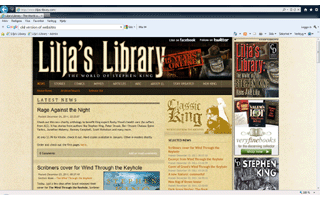 At first
Lilja's Library
was a rather small site but as the years passed it grew and grew and it's still growing today. In 1999 it was time for the first really big change in design. The look it now got (see the second images) was radically different from how it looked before (as far as the design was concerned) and it now got a lot easier to navigate on the site and find what you where looking for.
This way it stayed until the beginning of 2001 when it was again time for a change (see the third image). This time it was back to the darker look again, much black and white and red text. I did one mistake with that layout though. I made it for the resolution 1024x768. This resulted in the fact that if you viewed it in 800x600 (which a lot of people did back in 2001 when computer screens wasn't as big as they are today) it didn't really look that great. This was fixed in the next update though.
Next version (see image four) got online at the start of 2003 and I was a lot happier with this one then any of the earlier ones. The changes this time was again pretty big and I did get some complaints from some people that thought the colors where hard to read. Whatever you thought about it, it was a lot easier to navigate then the previous version.
Then in 2006 it was time for a change again (see the fifth image).
Lilja's Library
celebrated its 10-year anniversary and I felt I wanted to do a new design to mark the occasion. This is also the foundation that all versions after that has build on and if you look at it, it's not that different from today's version. This version is also a more dynamic version then the earlier ones, not so static with a database foundation meaning it got a lot easier for me to update the site.
In 2010 when the book version of
Lilja's Library
(read more
here
) was released it was time for yet another update. This time to match the look of the book a bit better (see the sixth image).
The year after, 2011,
Lilja's Library
celebrated its 15th year online and that I felt I wanted to celebrate. So some smaller changes were made. The page was made wider and the commentary feature was introduced. This is the site as you see it today (see the seventh image) and how long it will stay this way I have no idea. BUT if it hasn't changed before it's 20th year online I promise it will then.
Lilja's Library
has been online for 15 years as I write this and my hope is to serve you with all the latest news on King and his work. So far I think I have succeeded pretty well. But since
Lilja's Library
is a one man show (except from the technical stuff that I have my good friend Anders helping out with) I'd destine to miss some things. And that is where you can help. If you find anything you haven't seen on
Lilja's Library
please let me know.
To keep up with the latest you can also follow me on
facebook
and
twitter
. And, if you like what you find here and want to help out keeping the site up and running for a long time please consider
donating
, after all, it isn't free running a site.
OK, I'm done. Go explore the site and let me know if there is something you miss or if you like it. I love hearing from all my readers!
Thanks!
Lilja

If you're putting a link to Lilja's Library from your site, please use this banner.