NEWS - CARRIE: THE MUSICAL
Posted: May 16, 2013, 11:07:31
Here are som cool photos from the infamous musical Carrie closed on Broadway May 15, 1988, following just 16 previews and 5 performances.


Posted: February 28, 2013, 22:00:50
Playbill.com takes a look at the first-ever high school production of Carrie, the musical based on the King horror novel, as part of our new PlaybillVIP.com.

Thanks to Lou Sytsma
Posted: February 7, 2013, 10:28:18
September will be a scream at The Carnegie as Showbiz Players debuts the new, improved version of the horror musical "Carrie," which famously came and went on Broadway in 1988.

Based on Stephen King's bestseller about a misfit teen with a smother-mother and telekinetic powers, Showbiz' Bunny Arszman promises it's "newly reworked and fully re-imagined," including being updated to today.

Read more here.

Thanks to Lou Sytsma
Posted: October 5, 2012, 10:32:23
Lawrence D Cohen discusses Stephen King's Carrie: The Book, The Movie, and The Musical. Check it out here.
Posted: June 23, 2012, 21:56:07
Check out Resurrecting Carrie!, an interesting look behind the scenes of MCC Theatre's revival of Carrie The Musical.


Thanks to Herbert West
Posted: April 11, 2012, 00:17:41
Ghostlight Records will record the cast album of the revised Off-Broadway production of Carrie, the musical by Oscar winners Dean Pitchford and Michael Gore and screenwriter Lawrence D. Cohen, based on Stephen King's novel about a teenage girl with telekinetic powers.

Read more here.

Thanks to Lou Sytsma
Posted: February 8, 2012, 22:38:20
Here is an article about the musical version of Carrie as well as some photos.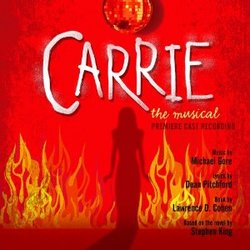 Thanks to Lou Sytsma
Posted: February 3, 2012, 11:13:45
Here is an interesting article from The New York Times about the play versions of Carrie called An Outsider Gets a Nicer Date for the Prom.



Posted: January 29, 2012, 02:09:10
As the infamous musical Carrie — based on the Stephen King novel — prepares for its first-ever New York revival at MCC Theater, Playbill look back at the original UK and NYC productions and offer a glance through the pages of the Broadway Playbill.

See more here.
Thanks to Lou Sytsma
Posted: January 19, 2012, 12:51:13
Here is a behind the scenes clip from Carrie: The Musical that my favorite King blog Talk Stephen King found.


Posted: January 11, 2012, 12:03:41
Talk Stephen King found out that MCC Theatre runs a contest where they ask you to do a video (and upload it to YouTube) in which you tell them why you are excited about the new stage adaptation of Carrie.



Interesting concept for a contest. Would you enter if I did a contest where you had to do a video telling me why you should win the prize? Might be fun...
Posted: January 1, 2012, 03:00:41
It looks as if Stephen King will be riding into the new year at #1.

Not only has 11/22/63 proven a critical success, it also seems to be King's most popular novel since 1998's Bag of Bones.

Whether it's due to variance in King's popularity or the shifting attitudes of the book-buying public in general, in recent years, King's hardcovers have been hitting the New York Times Bestseller List high and then falling down (and off) rapidly. Not so with 11/22/63. It debuted at #1 - never an oddity for King - then dropped to #2 for three successive weeks as new books by James Patterson, Janet Evanovich, and Michael Connelly each smashed in at #1 ... and fell. In its fifth week, King's time travel novel shot back up to #1, making the first King hardcover to drop from the top spot and then reclaim it since 1990's The Stand. For the last three weeks, it has held fast to #1, making it King's longest stay at #1 since Dolores Claiborne's seven-week run in 1992/93.

The critics have been very kind to this book, and with good reason, but it's really gratifying that in his fifth decade of publishing books, King is just as popular as ever, if not more so. The reading audience is changing, but they still love Stephen King. That's pretty amazing.

Thanks to Kevin Quigley
Posted: November 22, 2011, 11:10:21
Casting for the new musical version of Carrie is done. check it all out here.

There is also a new book out about Carrie in all its format. It's called Carrie: Studies in the Horror Film and written by Joe Aisenberg. Check it out here.

Thanks to Bev Vincent and Ari.
Posted: August 24, 2011, 14:10:39
Dread Central has the laste on Carrie - The Musical.
Posted: November 17, 2009, 18:15:48
Shock till you Drop has the following report about Carrie: The Musical:

Last month we got wind that a new production of Carrie: The Musical was headed to Broadway with producers Jeffrey Seller and Kevin McCollum (of Rent, Avenue Q, West Side Story) spearheading the project. Now, Playbill has announced the complete cast for the musical based upon Stephen King's novel and it looks like we have ourselves a new Carrie.
Stafford Arima will direct the 29-hour Equity reading that will take place in Manhattan Nov. 20. The cast will feature Sutton Foster as gym teacher Ms. Gardner, Marin Mazzie as Margaret White, Molly Ranson as Carrie (pictured left) and Jennifer Damiano as Sue.
Also revealed in the cast are "American Idol" finalist Diana DeGarmo (Hairspray, The Toxic Avenger) as Chris, Matt Doyle as Tommy and John Arthur Greene as Billy.
The Carrie ensemble includes Corey Boardman, Lilli Cooper, Katrina Rose Dideriksen, Benjamin Eakeley, Emily Ferranti, Kyle Harris, Philip Hoffman, Kaitlin Kiyan, Max Kumangai, Mackenzie Mauzy, Preston Sadleir, Jonathan Schwartz, Bud Weber and Sasha Weiss.
Producer Seller has reunited composer Michael Gore, lyricist Dean Pitchford and book writer Lawrence D. Cohen, whom took a crack at the stage show back in 1988 to reprise their roles for this update.
You can actually check out an official Carrie: The Musical website with plenty of tid-bits on the original show, as well as info on the new one
right here
.
Thanks to Bev Vincent
Posted: November 13, 2009, 23:45:07
American Idol finalist Diana DeGarmo joins Carrie cast. Read more here.

Thanks to Bev Vincent
Posted: October 30, 2009, 07:38:58
Dead Central reports that Carrie might get a new chance as a musical.

Here is an article about it from New York Post.