NEWS 2011
Stephen King buys
dream home
posted 05/08/01
By CHARLIE HUISKING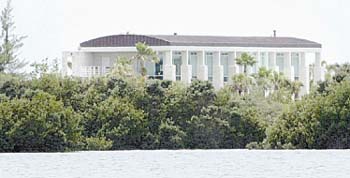 Stephen King's next horror novel could be about something really scary – the high price of Florida real estate.
The popular author of "The Shining," "Pet Sematary" and dozens of other best sellers has paid $8.9 million for a waterfront home on Casey Key.
The sale price is a record for a house in Sarasota County, according to Tom Stone, a Michael Saunders & Co. real estate agent who handled the sale.
The 7,500-sq.-ft. home, a contemporary, concrete-and-glass structure with a copper roof, is at 1600 N. Casey Key Road. With sweeping views of Midnight Pass and the Gulf of Mexico, it sits on three acres in a secluded area on the northern tip of the exclusive barrier island.
King, 53, who spends much of his time in his native Maine, purchased the home April 23 from Jeffrey F. and Carolyn M. Jones.
Jones, a venture capitalist involved in commercial real estate, paid $538,143 for the property in 1989. In 1991, he built the house, which has three bedrooms, five bathrooms and a swimming pool. The assessed value is $2.3 million, according to records of the Sarasota County Property Appraiser's office.
King already is familiar with Southwest Florida. He rented a condo on Longboat Key in 1999, and was spotted frequently in Sarasota restaurants and movie theaters.
He is still recuperating from a 1999 traffic accident that left him severely injured. Struck by a motorist while walking on the shoulder of a highway in Maine, he suffered a collapsed lung, broken ribs, and numerous pelvic, hip and leg fractures.
King, who could not be reached for comment, first toured the Jones home two years ago, and returned for another inspection this winter.
"He spent a couple of hours with us," Jones said. "He's a really nice guy, very respectful and easygoing."
King and his wife, Tabitha, have three children. The author didn't tell the Joneses what particularly appealed to him about the house.
"But I assume he felt it was a good place to do writing," Jones said. "It's pristine and kind of isolated, it has great views and great light, and there's not much noise."
Jones said he and his wife are fans of King's work. "Luckily, we had some of his books in our library at the house, so we asked him to autograph one," Jones said.
King's move-in date isn't known, but members of the Sarasota arts community are thrilled that he will eventually be spending time here.
"I think it's great, and we'd love to make him the featured author at the 2001 Sarasota Reading Festival," said Caren Lobo, co-chair of that November event. "Consider this a public invitation."
Jody Kielbasa, the executive director of the Sarasota Film Festival, said he would like to honor King at an upcoming festival.
"I actually talked about it a couple of years ago with friends of his here, but they didn't want to impose on him at the time," Kielbasa said.
"I'd love to do something with him, though. The list of films made from his works is just amazing, from 'The Shining' to 'Stand by Me' and 'The Shawshank Redemption' and 'The Green Mile.'"
Sarasota mystery writer Stuart Kaminsky is one of King's closest friends in the area. At Kaminsky's invitation, King has attended several sessions of the Liar's Club, a group of writers who meet weekly at Cafe Baci on U.S. 41.
"He and Tabitha are both wonderful, unassuming people," Kaminsky said.
Another local writer who met King at the club was similarly impressed.
"He was so approachable and easygoing that you'd never know he was a world-famous author," said Peter King, who is not related. "I remember him telling us that he now wanted to concentrate on books that he liked, not just ones that were commercial. He said he'd made enough money – I think the figure he mentioned was $350 million."
Sarasota County Commissioner Jon Thaxton, who represents the Nokomis and Casey Key areas, said he's thrilled that King is coming to the area.
"Here's a guy who has reached the pinnacle, and who could live anywhere," he said. "That he's coming here is a real pat on the back for the citizens here. Because it shows we've done a good job in preserving a quality of life, in balancing the needs of a community."