NON-KING NEWS
Posted: November 17, 2011, 14:04:49
Here is a short interview with Greg Nicotero about the second season of The Walking Dead.
Posted: November 16, 2011, 15:36:23
Here are some interesting interviews connected to The Walking Dead.

Robert Kirkman talks about Shane
More characters, including Michonne, in the works
Gale Anne Hurd talks Walking Dead
Posted: November 16, 2011, 13:56:48
Dread Central reports that Russelll Tovey (the werewolf in the UK version of Being Human) leaves the series after season 4 leaving only one original cast member...


There we were, enjoying our Saturday morning coffee and catching up with Twitter, when we saw a tweet from Russell Tovey, one of the stars of the UK version of "Being Human", saying that he's leaving the show. First Mitchell, now George?!? Talk about ruining your weekend! Anyway, read on for the sad, but true details.

First off, here's what @RussellTovey tweeted:

"Hey my lovely witty's, you may or may not know by now, but I am leaving Being Human officially.. Thought you should all know... Im sorry x"

Then, reading a little further down his tweets, we found a link to an article in The Guardian in which he explains, "Well, I've actually left 'Being Human', but no one [outside of the show] knows yet. Aidan [Turner]'s left to film The Hobbit in New Zealand [with Peter Jackson], and going on without him on this fourth series felt strange."

When asked if having only one of the original cast members left (i.e., Lenora Crichlow, aka ghost Annie) puts the show in major jeopardy, Tovey promised fans, "No, with 'Being Human' the story can definitely go on and on. Toby [Whithouse, the writer] still runs it, and they can do all sorts ... add giants and robots!"

Well, we don't know about giants and/or robots, but this certainly has raised a lot of questions. Such as when and how werewolf George (Tovey's character) will be leaving and what it all means for Sinead Keenan, who plays Nina, his love interest, when the fourth season of "Being Human" begins airing sometime in early 2012. As we find out more, we'll be sure to pass it on!

Posted: November 16, 2011, 12:35:56
Here is a trailer for the next episode of The Walking Dead.


Posted: November 10, 2011, 16:30:56
Evern wanted to know how to do the makeup for a Zombie? Check this out!
Posted: November 8, 2011, 20:28:21


Todd McFarlane talks about the upcoming Walking Dead action figures
Posted: November 8, 2011, 11:36:05


Episode 2.04 - Cherokee Rose - Inside the Episode
Posted: November 8, 2011, 11:34:35
Here is a new trailer for season 2 of Being Human. If you haven't seen season 1 it's out on DVD and blu-ray later this month.


Posted: November 8, 2011, 00:54:38


Trailer for episode 5 of The Walking Dead




Creating the Well Walker (this is probably the Zombie Norman Reedus talks about in my interview with him).
Posted: November 1, 2011, 09:27:01
Robert Kirkman, creator of The Walking Dead comic talks to Entertainment Weekly about what just happened in episode 3. If you haven't seen it yet, don't read this!
Posted: November 1, 2011, 09:24:50
Here is a teaser for episode 4 of The Walking Dead.


Posted: November 1, 2011, 09:23:00
Here are three really cool promotional pictures for Dexter.


Posted: October 27, 2011, 13:28:41
Here are some story notes for season 2. They are like a bit like the extramaterial you get on a DVD but in written form...
Posted: October 26, 2011, 10:30:56
After only two episodes on season 2 AMC announces that they have renewed The Walking Dead for a third season. Here is the press release:


New York – October 25, 2011 - AMC announced today the renewal of "The Walking Dead" for a third season. Season two continues to deliver the strongest telecasts for any drama in basic cable history against Adults 18-49 shattering a basic cable record set nearly 10 years ago for a single drama telecast ("The Dead Zone"). "The Walking Dead" is based on the comic book series written by Robert Kirkman and published by Image Comics. Glen Mazzara serves as series' showrunner. Kirkman, Gale Anne Hurd, David Alpert and Frank Darabont are executive producers. Greg Nicotero is a co-executive producer.

"Today we are pleased to announce that the 'dead' shall live as we proudly renew 'The Walking Dead' for a third season on AMC and, globally, with our terrific partners at Fox International Channels," said Charlie Collier, AMC's President. "We are thankful for everyone's contribution in front of and behind the camera as we continue to make 'The Walking Dead' a unique television experience. And, we are so proud as it continues to set viewership records around the world."

FOX International Channels rolled-out its global launch for "The Walking Dead" this weekend, with premieres on FIC's cable networks in Europe, Asia, Latin American, Africa and the Middle East. The series' international premieres delivered equally impressive results in all major international TV markets, and broke pay-TV ratings' records across the world. Over 10 million viewers in 122 countries tuned in live to watch the second season premiere of this highly anticipated returning drama. And, FIC will once again be the international broadcasting partner for the series with Entertainment One continuing to distribute in non-FIC markets.

"Partnering with AMC on 'The Walking Dead' took some guts", said Sharon Tal Yguado, SVP of Scripted Programming at FIC. "But at the same time was the easiest programming decision we ever made. It's rare to come across a groundbreaking TV project that is also attached to some of the best talent in town. 'The Walking Dead' was treated as a global event since day one and not only changed the traditional TV model but also changed our viewers' TV experience. It is now officially a global addiction with millions of fans around the globe wanting more. We are delighted to give it to them."

"The Walking Dead" secured a 2010 Golden Globe nomination for Best Television Series - Drama and won the 2011 Emmy Award for Outstanding Prosthetic Makeup. The series tells the story of the months and years that follow after a zombie apocalypse. It follows a group of survivors, led by police officer Rick Grimes, who travel in search of a safe and secure home.

"The Walking Dead" received rave reviews from countless critics, both domestic and international, who heralded the series as "above all else, "The Walking Dead" hasn't lost the most important ingredient in its strangely successful recipe: it's thrilling" (The Hollywood Reporter), "...with Dead's riveting cast of characters, the personal dynamics are almost as potent as the gory thrills" (Us Weekly), "The Walking Dead is a feast. Dig in." (The Guardian, UK), "It doesn't even take three minutes to realize that this series is setting standards" (Der Tagesspiegel, Germany).

Posted: October 26, 2011, 10:29:08
Looks like there is a board game version of The Walking Dead. Anyone who has tried it?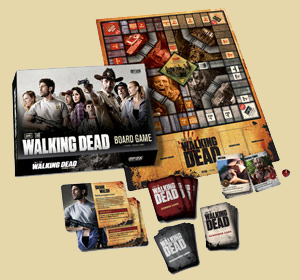 In The Walking Dead Board game, only the strong survive. The weak turn into walkers, and then turn against their former friends! Fight your way through zombie-infested Atlanta with your fellow survivors. Grab some weapons to clear a path. Visit destinations like the department store, the police station, old folk's home, and the CDC. Find the tools you'll need to live another day like weapons, allies, a car, or a swift mount. Take on the role of Rick, Andrea, or one of the other hapless survivors and scrounge for sweet weapons like a Shotgun or Crossbow. Keep your eyes open for new allies, but watch your back! When supplies start running low, it's every man for himself. If you can make it back to camp with enough gear to defend yourself and those you still care for, you win!
Should you fall to the hungry horde of walkers, the game doesn't end. When a player dies and becomes a walker, they leave the world of the living behind and seek out the remaining survivors. Spring surprise attacks on the living, cause the walkers to frenzy, or contaminate the survivor's supplies. Put the bite on your former friends and they'll join you in your pursuit of the living. As a survivor, you'll work as a team with your remaining buddy to ensure the camp site stays protected. Share weapons and other resources. The fate of the human race is in your hands, either as a survivor or a walker. Test your surival skills and fight to live another day with The Walking Dead Board Game from Cryptozoic Entertainment.
Read more
here
.