NON-KING NEWS
Posted: February 21, 2012, 03:32:52
If youíre a fan of The Walking Dead and isnít already following itís showrunner Glen Mazzara @glenmassara you need to do so ASAP. He is giving us small hints and info about the series all the time. The latest questions heís answered are these:

- Will we ever see the deleted scenes from earlier this season? Special Ed dvd perhaps?
- Yes

- Will the bicycle girl webisodes be on the season 2 DVD?
- Yes

- Can we expect more webisodes in the future?
- Yes
Posted: February 20, 2012, 03:21:55
New tweet from Glen Mazzara (showrunner) for The Walking Dead about season 3:


Pitched #thewalkingdead 301-308 to @AMC_TV. They loved it.

Posted: February 20, 2012, 02:27:30
Tonight episode 9 of The Walking Dead airs. Check it out and then come back here and let me know what you thought about it.
Posted: February 17, 2012, 15:00:06
Here is a trailer for Sunday's episode of The Walking Dead called Triggerfinger. Great episode...


Posted: February 16, 2012, 11:33:07
Glen Mazzara (showrunner) for The Walking Dead just twitted this:


Just pitched #thewalkingdead 301-308 to @gunnergale and other #TWD producers. They are blown away.

Sounds like we have a great season coming up...
Posted: February 15, 2012, 22:02:40
A new episode of Being Human has aired and my thoughts can be found here. Please comment.
Posted: February 15, 2012, 15:29:29
From the AMC press release:


The Walking Dead mid-season return episode Nebraska became the strongest telecast for any drama in basic cable history against key demos including 5.4 million adults 18-49 and 4.4 million adults 25-54. These results shatter the previous record, which was held by the series' October 16th Season Two premiere with increases of +12% and +6%, respectively. The show delivered 8.1 million viewers for its 9:00 pm premiere and 10.1 million viewers for the night (9:00 pm premiere and 11:00 pm and 12:30 am encores).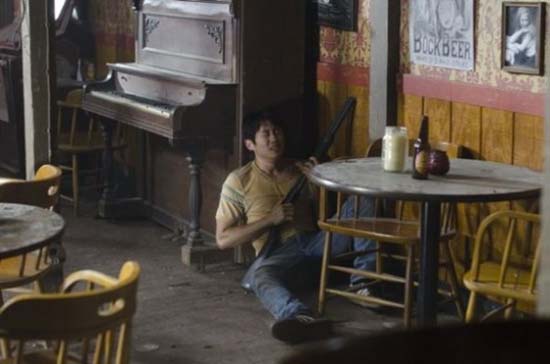 Head over to
Dread Central
for more photos from next episode (which BTW is great).
Posted: February 15, 2012, 13:23:18
It's no surprise that The Walking Dead is represented at the 2012 Toy Fair but check out these photos from Dread Central.

The next set of action figures based on the TV series will be Rick (a new version), Shane, the Zombie from the well, the RV Zombie and my favorite Bicycle Girl.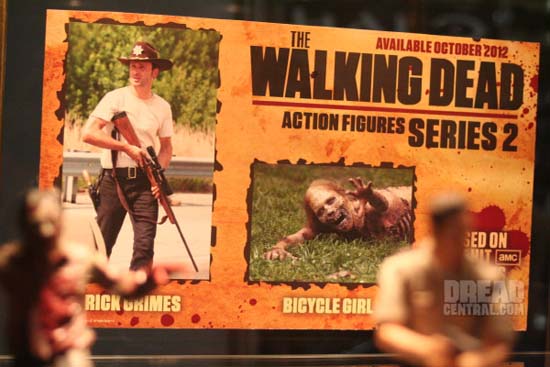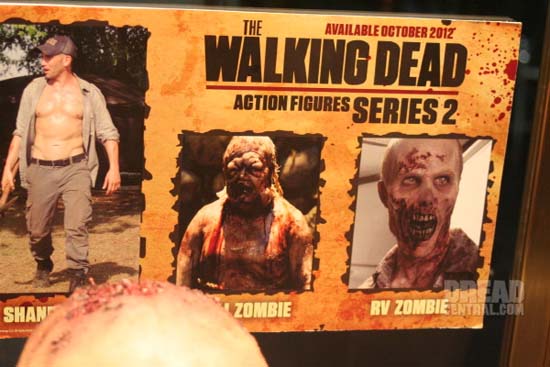 Also, here are some of the cool blu-ray set of season two (I'll order it as soon as it's possible).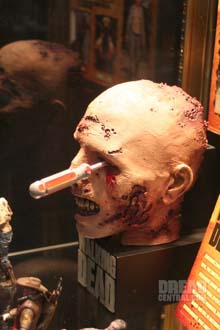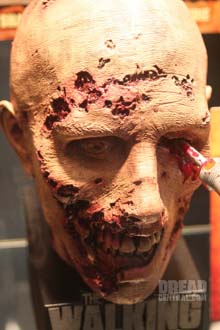 Posted: February 13, 2012, 12:24:04
Here is a clip with the casts thoughts on the last episodes of The Walking Dead.



And here are two promos for the next episode.




Posted: February 10, 2012, 23:36:11
Here is a first look at the limited edition of season 2 of The Walking Dead on blu-ray. I donít know about you but I do want one!


Posted: February 6, 2012, 10:12:19
You have probably seen her in both The Walking Dead and Zombieland. Sonya Thompson has played a Zombie more than probably anyone else. I got a chance to talk to her about it and I don't know about you but I'd sure like to trade places with her for a couple of days. Here is what she had to say.
Posted: February 6, 2012, 09:21:06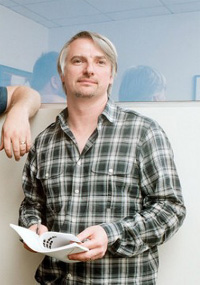 Glen Mazzara took over as show runner for The Walking Dead after Frank Darabont and when the show returns on February 12 we'll be seeing the first episodes where Glen is the boss and not Frank. New York Magazin spoke to Glen about this and you can read all about it here. And let me tell you, I have seen episode 8 and I don't think anyone of you will be disappointed.


The writers have already moved on to season three, which AMC recently expanded to sixteen episodes. Thatís exactly where Mazzara wants to be. ďIf you want to know who I am,Ē he says, ďI hate when a show Iím working on is broadcast. Iím dreading when the show comes back on. Iím sure people will like it, but I donít like the spotlight, and I canít wait for the last one to run so I can get back to work.Ē

Posted: February 3, 2012, 11:00:08
The second part of season 2 of The Walking Dead hasn't even started yet but already we're getting info about season 3. Hopefully that mean it'll premier as early as this fall. Here is what I've heard.

- The small town of Senoia in Coweta County is about to become zombie central for the filming of a hit cable show The Walking Dead. The show is scheduled to shoot in the town in May and construction of zombie sets will begin next week, which will involve 60 local carpenters. Scott Tigchelaar of Raleigh Studios Atlanta says people can expect to see the town a little dirtier than normal to fit the look of the show. (If anyone notice anything and get photos; send them to me and I'll post them on Lilja's Library.



- It was earlier rumored that John Hawkes would play Philip Blake, the psychotic zombie-killer who declares himself the Governor of Woodbury. Now, it looks like that won't happen. Hawkes' publicist states quite plainly that "John is NOT appearing on The Walking Dead." So, that is that.

- According to IMDb, Marvin Duerkholz who's probably best known for his role as Cody on MTV's Teen Wolf, is set to appear in The Walking Dead's season 3 premiere episode as Phillip Eagle. As all fans of the comic knows there are no character by that name in the comic. The closes is Philip Blake, known as The Governor, but I don't think Duerkholz will be playing that role.
Posted: February 2, 2012, 09:33:32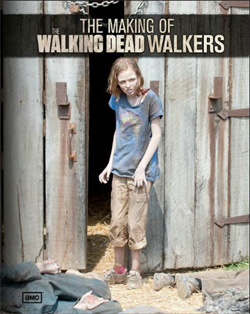 AMC has released this multimedia magazine that gives you an inside look at the most iconic walkers from the series. Check it out! It's really nice!
Posted: February 1, 2012, 14:03:11
I have added my thoughts about episode 3 of the US version of Being Human. Check it out here and don't forget to comment.