Posted: April 6, 2020, 13:54:44
Section: Book » Shining In The Dark
I'm looking for new publishers for my anthology SHINING IN THE DARK. Big or small doesn't really matter. I want publishers that are excited about the book and that do everything in their power to create a beautiful edition of the book.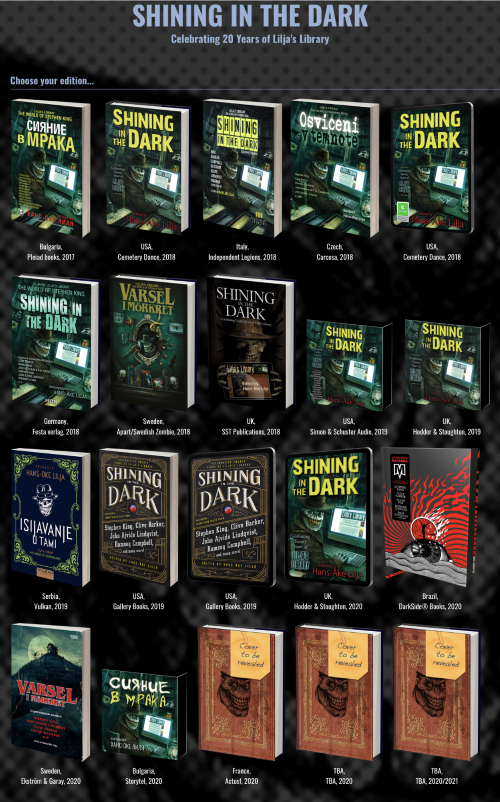 So, if you are a publisher and think you can do an outstanding edition of SHINING IN THE DARK, let me know. If you know of a publisher that you think can do an outstanding edition of SHINING IN THE DARK, let them or me know. In other words, help me spread the word so anyone who wants can read the book in their native language

Here are some info about the book. More can be found here.

SHINING IN THE DARK has been published in 8 languages (Bulgarian, English, Italian, Czech, German, Swedish, Serbian and Portuguese)

SHINING IN THE DARK has been released in 9 countries (Bulgaria, US, Italy, Czech Republic, Germany, Sweden, UK, Serbia and Brazil)

SHINING IN THE DARK has been released in 15 different editions.

SHINING IN THE DARK will be released in 8 new editions (at least) in 2020 and 2021.

SHINING IN THE DARK will be released in France and two more (so far unannounced) countries (at least) during 2020 and 2021.

Thanks! / Lilja