NEWS 2000
King on Good Morning America
Here is a mail from Simon & Schuster from August 8
Dear Stephen King Fan: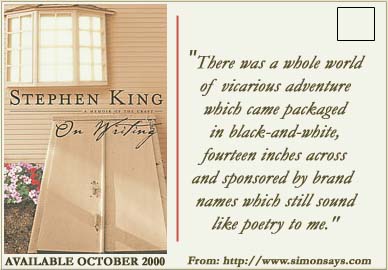 Get ready for another segment of wisdom from the King -- attached is the next installment in our series of ON WRITING e-postcards. Don't forget to share it with other students of the craft, loyal King fans, and new readers alike!
And be sure to visit http://www.SimonSays.com/king where you can download ON WRITING bookmarks and enter a contest to win a free Advance Reader's Copy of the book. ON WRITING can be yours first!
But that's not all_we've also learned that King will be making an upcoming appearance on ABC's Good Morning America. Set your VCR for October 2nd, you won't want to miss this! Be sure to keep an eye on the newsstands too -- The New York Times Sunday Magazine will include a profile of ON WRITING in their August 13th issue, and Elle magazine will feature the book in September.
And what's the verdict on ON WRITING? Here's what the experts are saying:
"_[On Writing] exerts a potent fascination and embodies important lessons and truths." - Publishers Weekly
"Generous, lucid, and passionate, King offers lessons and encouragement to the beginning writer, along with a warts-and-all account of a less-than- carefree life." - Kirkus Reviews
"Good advice and a good, ordinary life, relayed in spunky, vivid prose, are the prime ingredients of what must be considered not at all the usual writer's guide." - Booklist
* * *
Want to learn more? Stop by our King den at http://www.SimonSays.com/king
Keeping you up on all things King, we are...
SimonSays.com