The Dead Zone - season 3 (DVD)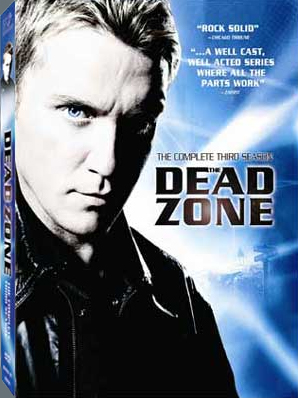 Yesterday the third season of
The Dead Zone
was released on DVD. I have already reviewed the season when it aired on TV and that review you can read
here
. In this review I'll concentrate on the DVD box and primarily on the extra material on it.
For starters we get comments to all 12 episodes and as you'll know by now, if you keep reading my reviews, I have come to like the commentaries on the DVDs very much. It gives the movie, or in this case the episode, an extra dimension. You get a sneak peak at what the filmmakers thought when they shoot the episode and how it all happened. Nice.
There are also three documentaries in the box. In the first one we get to see how the filmmakers made the leap to HD from 35mm film. I'm no film expert but HD is a way of shooting the episodes. In the second one we get to follow two pretty eccentric brothers that are in charge of feeding the entire crew of
The Dead Zone
. It's amazing how much food they eat. It's quite interesting to see. The third and last one feels a bit unnecessary though. Here we get to see how actor Chris Bruno stays in shape by exercising. Feels more like a home movie then something that should be included here.
Two really funny things on in the box are the Gag Real and the deleted scenes. The Gag Real is a collection of scenes where the actors and actresses mess up. It could be they forget their lines or that they start laughing. It's really fun to see. The deleted scenes are a must. I love to see what didn't make it, and here they do it in a really smart way. They have added a short section before and after the deleted scene so that you know where in the episode you are. These parts are in black and white and then the deleted scene is in color. Really well done.
There is also a short movie called Five Minutes 'Til Mitch that is written and directed by John L. Adams. This little movie has nothing to do with
The Dead Zone
and makes a pretty week impression.
Lilja's final words about The Dead Zone - season 3 (DVD):
Season 3 is the best season so far and if you like The Dead Zone you need to go out and get this one right away…and if you don't like The Dead Zone you will after you have seen this DVD box.