The Dead Zone - season 2½
So, the summer season of
The Dead Zone
is over. Seven new episodes did we get and what episodes it was! I think these 7 episodes (maybe with the exception of
The Storm
are among the strongest episodes in the series history.
It starts off with
The Storm
in which Johnny faces of a storm. The episode starts off with Johnny being sick and tired of all his visions and not being believed when he tries to help people. His friends decide to do an intervening (like you do with alcoholics or drug edicts) to get Johnny to snap out of it. While Johnny and Bruce are on their way they get caught in a storm that seams very strange…to say the least.
In the second episode;
Plague
Johnny attends JJ's (Johnny's son) schools science fair and while he is there he gets visions of all the kids getting infected with some kind of sickness. He tells Walt who called the authority that (off course) doesn't believe him. As usually Johnny's visions comes true and a plague starts to spread through the town. Now he has to find out what is causing it and how to stop it. Not only to save the town but also to save his son, JJ.
Deja Voodoo
is one of the best episodes in this "half" season. In it Johnny bumps into a lady in a bar and see how they end up kissing each other later that night. After his vision and a bit of sweet-talk they do kiss each other but right after they both gets shoot by a robber. Just as it happens Johnny snaps out of his vision. It appears that the reality was nothing but another vision. Now he has to save the lady before the vision comes true. Unfortunately his first try is nothing but yet another vision and on that road he continues. You never know when it's a vision and when it's for real. A very clever episode that I'll remember for a long time.
The next episode was
The Hunt
. This is the episode that was canceled from the original second season due to the war in Iraq. I'm glad they decided to air it now though. It's a very different episode from what we have gotten used to. Here Johnny's visions are used in another way. Here they are called upon for a special purpose. I'm also glad it didn't get the Hollywood ending those patriotic movies more often then not gets. They kept it realistic all the way through.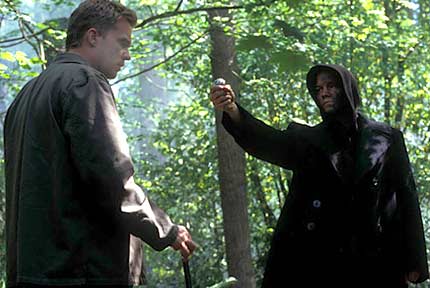 In
The Mountain
Johnny, Walt, Sarah and JJ finds a piece of a plane that went down some years ago. Johnny thinks he can see where it crashed and along with the local ranger and two of his friends they set out on a hike to find it. Unfortunately it doesn't turn out to be this wonderful and bonding (between Johnny and JJ) trip they planed. It seams like the ranger and his friends have other plans.
In the sixth episode of this "half" season we gets
The Combination
in which Johnny fights to save the life of a boxer who will otherwise die in the ring. In this episode Johnny learns that he sometime can change the future by making someone else believe in a false vision…
In the finale
Visions
(which is a really strong episode) we get to know a bit more about the Armageddon that Johnny keeps seeing. Through out these 7 episodes Johnny has been seeing a hooded figure that has shown up from time to time. When they finally meet is turns out he is one of the few that survived the coming Armageddon. He has also gotten similar powers that Johnny has and can now (from the future) see what Johnny sees through his own visions. Johnny sees this as a chance to get more info about the Armageddon and maybe a way to prevent it…
Through out this "half" season Johnny also tries to get closer to JJ who doesn't know that Johnny is his father. My guess is that he will find out in the future though. The only thing I miss with these episodes is that there are no Stillson in them! I was hoping that he would show, especially in
Visions
but no luck…
Lilja's final words about The Dead Zone - season 2½:
As I said, most of these seven episodes are among the best that has been done in the series. It's amazing but The Dead Zone only gets better and better the more episodes they make. I sure hope there will be a third season. Anything else would be a disaster.

Imagine if we don't get to see what happens to the Stillson issue, the Armageddon or if JJ will find out that Johnny is actually his father. What a horrible though…