Rose Red
Posted: December 27, 2001
Rose Red (Episode 1)
(Circa 1 hour 25 minutes without commercials)
This first episode gives of an introduction of all the characters and their background. We learn that Joyce Reardon (Nancy Travis) is set out to do an expedition to the haunted house
Rose Red
. To get the house to open up to her she brings with her six unique persons that all have some kind on powers. It can either be telepathy, telekinetics, touch-know psychics, the ability to see into the future, the ability to see what has happened in the past and so on.
The six she brings with her are Nick (Julian Sands), Victor (Kevin Tighe), Emery (Matt Ross), Pam (Julia Campbell), Cathy (Judith Ivey) and the most important one Annie (Kimberly Brown). Along for the ride, besides this six and Joyce, are also Ellen and John Rimbauer's grandchild Steven Rimbauer (Matt Keeslar) and Annie's sister Rachel "Sister" (Melanie Lynskey).
We also get the background to
Rose Red
itself. We get to hear the story of Ellen and John Rimbauer, their children Adam and April and Ellen's servant Sukeena. The story takes place both in the present (2001) and the past (the early 1900's).
There are (of course) also some persons that don't agree with what Joyce is doing. The one that is most negative is Professor Miller at the university that Joyce teaches. He does everything in his power to sabotage for her. To his help he has the school newspaper reporter Bollinger, who he sets up to follow the expedition into
Rose Red
and document (what he thinks) all the craziness.
King throws in a connection to his real life in the form of a student to Joyce whose name is Spruce, the same last name that Tabitha King had before she married King.
Rose Red (Episode 2)
(Circa 1 hour 25 minutes without commercials)
In episode 2 things are starting to heat up a bit, things are starting to happen inside
Rose Red
… The search for ghost and spirits goes on and now we start getting to se some of them more up close. We also learn more about
Rose Red
and the Rimbauer family history.
The characters are starting to develop as well as the story. If the first episodes purpose was to let us get to know the characters better the seconds is to let the characters grow on us and we can decide whom we like and don't like. For example at first I really though that the characters of Emery was a bit over the top. The character wasn't one that I though fit in the story. In the second episode I'm starting to enjoy him though. I agree that he is an obnoxious person but he is it in an interesting way. He is
Rose Red
's version of Mr. Toomy from
The Langoliers
.
In the second episode the story also starts to develop. By now we know the background of the main characters quite well so the focus can be on the story itself, instead of the characters, like in episode 1.
As in the first episode there are connections to King or his other works here as well (even if the first one is a bit far fetched though). One character is heard singing on the tea-song that Andre Linoge sings in
Storm of the Century
(unfortunately I don't know the exact title). But that isn't all. In this episode King makes his cameo appearance as well. In
Rose Red
he portraits a pizza delivery boy and he also have a few lines this time. It's quite fun!
Rose Red (Episode 3)
(Circa 1 hour 20 minutes without commercials)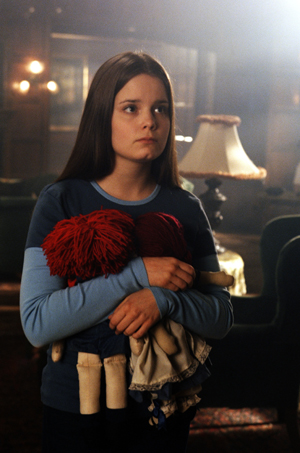 Here we get to know even more about what has happened in
Rose Red
before Ellen Rimbauer disappeared and we learn that all may not be what it seems... These flashbacks are shot in a really nice way, they are not in black and white but they are not as colorful as the scenes from today either. They give us more information about the Rimbauer family but I want more…
In episode 3 we also get to see exactly how possessed Joyce is with the house and at the end she starts to show her really feelings for the others and her real intentions for the expedition.
OK, so now it's time for the grand finale. Unfortunately I feel King gets away a bit too easy here. I was hoping for a bit more information about the Rimbauer family (even though there are quite much in episode 3) and why
Rose Red
really is haunted. There are still some questions that I personally feel is left unanswered. I won't go in to who or what they are here; I will let you find out for yourself when you see the series.
Even though the ending provides some surprises I feel that it could have used a bit more…
Lilja's final words about Rose Red:
So, to summon up my feelings about
Rose Red
I can say that I think it's a rather great miniseries. Maybe there could be a bit more info about the Rimbauer family in it (to give the viewer a better sense of why
Rose Red
really is haunted) but hey, you can't get everything, right?
I do feel that what we get here is good stuff. It shows that it's for TV and not for the movie screen but that is all right to I think, because the plot is good and most of the actors/actresses do a really great job in portraying their characters.
So, what ever you do, don't miss
Rose Red
on ABC on January 27th, 28th, and 31st next year! If you do, you will regret it, take my word for it!
If you are interested in reading my review of
The Diary of Ellen Rimbauer: My Life at Rose Red
you can do it
here
.
As long as you're not done building the house, you'll stay alive -
Rose Red