Salem's Lot - Limited edtion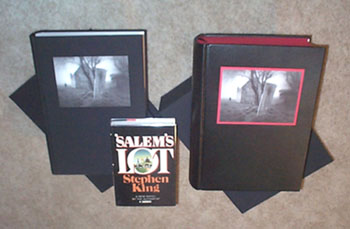 Centipede Press edition of
Salem's Lot
is a big book; it's probably the biggest book I have seen. It weighs over 13 pounds, 9 x 13 inches and over 4 1/4" thick. The nice thing with it is that it's like the entire book has been sized up. The font of it is bigger so it almost feels like you have chinked when you read it. It's no book you're going to read lying on your back; you will need to sit up reading it. It's really that
BIG
!
The book contains
Salem's Lot
(off course) but also
Jerusalem's Lot
and
One for the Road
(as they are related to the
Salem's Lot story
) as well as King's introduction from the Pocket Books edition of
Salem's Lot
. And as if that wasn't enough this book has something unique, it has some extra material. Like on a DVD we here get 50 (yes you heard me; 50) pages of deleted scenes from the original manuscript, which have never before been published.
This is something unique. The only other time this has happened is with the extended version of
The Stand
. In
The Stand
the new material is incorporated into the book and with
Salem's Lot
it's collected in the back of the book. The positive about having it all at the back is that you can easily see what's new material. When it's incorporated into the book that becomes harder to see all the new stuff.
Anyhow, it's really cool to see what King had in store from the beginning and if you first read the book and then the new material you can easily see how it would (or not) have worked in the book. All the new parts are explained at the beginning of each one. It's explained where they are from (in the book). Nice!
The book also contained beautiful photos by Jerry Uelsmann. And even though they aren't taken for this book (but from Uelsmann's personal archive) they contribute in giving the book a nice feel.
All in all this is a very nice book. The only thing that I'm skeptic about is the material (Japanese cloth on the edition I got) used for the cover and the tray case. It's a dust magnet. And as all of you probably know a bookcase is where all the dust lives and breathes, right? Other then that I think it's a beautiful book!
Here is some info about the three editions of this book:
25 leather (15 for sale) $950
Bound in leather (real leather, non bonded) with photos in a traycase.
Roman numerals. Signed.
Printed on Saunders paper.
380 cloth (300 for sale) $470
Bound in Japanese cloth with photos in a slipcase.
Arabic numerals. Signed.
Printed on Mohawk Paper.
600 cloth (all for sale) $95
Bound in Italian cloth. Only one photo used. No slipcase.
Not numbered or signed.
Printed on Finch paper.
Lilja's final words about Salem's Lot - Limited edtion:
If you get a chance to get this book at a fair price (see the different editions and their original price above) you should definitely get it, just make sure that you got a big bookcase. As I said, it's a really, really BIG book!

One copy of the Leather bound editions went for $7,675.00 (the original price was $950.00) on eBay recently and that is a bit too much…