McSweeney's Enchanted Chamber of Astonishing Stories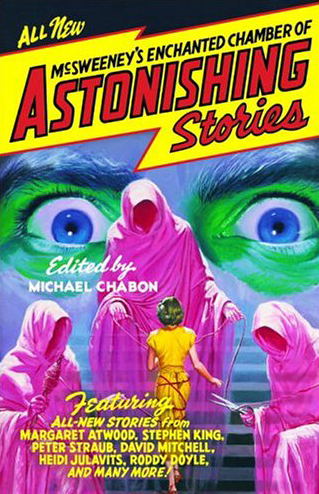 McSweeney's Enchanted Chamber of Astonishing Stories
is a collection of 15 stories from 15 different authors and it's edited by Michael Chabon. Since
Lilja's Library
is a Stephen King site my review will be focusing on King's story but that doesn't meant that you won't enjoy the other stories as well. You have stories from people like Peter Straub, Margaret Atwood, David Mitchell, Joyce Carol Oates, Stephen King and 10 other authors. King's story has the title
Lisey and the Madman
, is 30 pages long and it's an excerpt from a new book called
Lisey's Story
(no, I don't know when it's being released).
In
Lisey and the Madman
we get to meat Lisey (Lisa) Landon and her husband, the famous writer Scott Landon. When we meat up with them they are at Shipman Library construction site. Scott is here to get it all started by taking the ceremonial fist shovel or dirt.
What happens during this ceremony is what seams to be the start of something going terrible wrong. Scott is attacked by a madman (thereof the name of the story) and ends up being shoot. Because of King's writing style, in which he usually gives us a taste of what's to come, we know he will survive so that's not the main story (even though it is in this excerpt).
My guess, and it's just a guess since this is actually a excerpt from a longer book, is that the main plot is something else. Something that has to do with The Long Boy…
We don't really know what or who The Long Boy is but it's a creature that Scott seams very familiarly with. You can see him by looking through a dirty water glass, if you look through them just the right way, and in the hours after midnight.
Lilja's final words about McSweeney's Enchanted Chamber of Astonishing Stories:
I feel that, based on reading Lisey and the Madman, this upcoming book, Lisey's Story, will be very good. So, Stephen, please get it out soon! And in the mean time you should definitely get yourself a copy of McSweeney's Enchanted Chamber of Astonishing Stories, today!