Haven - Episode 7
Posted: September 24, 2010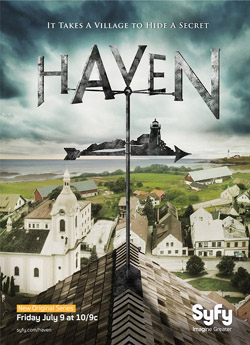 The strangeness is back in Haven and so is Duke. In this episode we get to see both. The strangeness in the form of people being hurt or even dying in very strange ways. One is folded up and one is ripped. Nathan and Audrey again seek the help of Jess Minion in their effort to solve what again looks like an impossible crime.
And even though Nathan doesn't like it they also get help from Duke in a crucial time. Personally I really don't understand why Nathan is so hateful against Duke. I guess it has something to do with the fact that Nathan is sweet on Audrey (which Duke never made a secret that he is as well) but that doesn't seem enough to get Nathan so winded time Duke is around. I suspect there are more than meets the eye between them.
The special effects are quite demanding in this episode and for the most part they work. In some scenes they are on the edge of failure but they manage to balance on the right side.
Sketchy
as the episode is called is again a well crafted episode that works well. The only thing I'm missing is The Colorado Kid.
Some thoughts on the script…
The intro to each episode, the part that we see before the part where all the actors and actresses are, named is actually called "Teaser" here. I have always thought it was called "Intro".
While reading the script I have noticed some interesting things. I'm not sure why these are but here are a few things I found:
Sometimes parts are underlined. Like in this sentence. "Eleanor pulls back the sheet so they can see the bizarre swollen reddish-purple bruising line that runs
STRAIGHT across both his thighs
.
And here: "They stop at a BODY under a SHEET on the floor behind a desk...
The sheet has parallel, bloody red streaks running up it. Pinstripes of red...
"
Here we have some underlining as well as the words BODY and SHEET written in capital letters.
I don't know why some parts are underlined but probably because they are parts that the writer wants the actors to give extra focus.
Lilja's final words about Haven - Episode 7:
This episode could easily have been comical instead of horrifying but the creator and writer manage to deliver a good episode.