REVIEW
American Vampire #3
Posted: June 2, 2010
Third issue of
American Vampire
is now out and it continues to be as good as the previous issues. King and Snyder keep pounding out these wonderful stories of Skinner and Pearl and they are really doing it well. The story feels fresh, exciting and on top of that you got Rafael Albuquerque wonderful illustrations. It doesn't get much better than that.
In this issue we keep following our main characters and the issue starts with Pearl who has now changed from the kind and timid girl she once was to an angry and deadly revenger. She is now out to get the people that made her into what she is today and she is not being nice to them when she finds them.
In Skinner's case he comes back from the dead as a super vampire. The other, "regular", vampires get worried that Skinner's kind will take over and since he's so much better than them they are very afraid of him, even if they don't really want to show it.
All this is presented in the rough style Albuquerque uses and that we have come to love. The sparingly use of colors also fits the story perfectly.
American Vampire
is also the only one of all the King comics out there that isn't showing any sketches at the end of the issues and and I find myself missing it…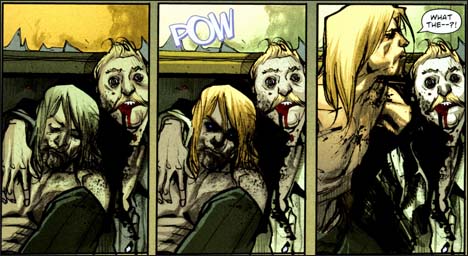 Lilja's final words about American Vampire #3
With this issue we're halfway though King's part of this comic and since he has written the Skinner part Skinner and Pearl needs to catch up to each other soon in order for Snyder to take charge of their faith. And will he be able to run the show himself (story wise)? Yes, I think he will!