REVIEW
In the Deathroom
Posted: May 10, 2010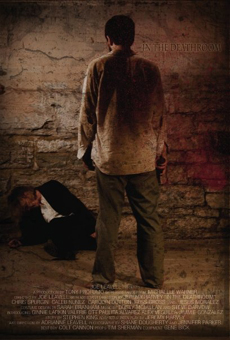 In the Deathroom
was originally published in the audio collection
Blood and Smoke
back in 1999 and now a little more than 10 years later it's been filmed. This version, directed by Joe Leavell, is a Dollar Baby and as you probably know Dollar Babies are movies that King has sold the rights to do to young filmmakers for only $1. Those who make the Dollar Babies are often film students that are in the beginning of their career so these movies can't really be compared to major film versions of King's work but have to be judged on their own terms.
With that said here we go.
In the Deathroom
is less than 20 minutes long but manages to tell the story of Fletcher quite well. Most of you probably already know the plot of the story but if not, let me refresh your memory. Fletcher has been captured by some unknown government and is about to get tortured to reveal what he knows about these unknown governments enemies. He has no weapon and very little hope to escape from the situation but then he gets one last cigarette and things are starting to look better…
This Dollar Baby version follows the story King wrote quite well. There are some minor changes and the scenes where Fletcher thinks of his sister isn't really explained in the movie. We can understand that it's someone he loves but not much more than that. Other than that though it's a decent movie. Remember that it's a Dollar Baby with $0 in budget so the fact that the sound isn't the best in some of the scenes isn't something I'm putting much weight into. What I do put weight into is the actors and their performances.
Most of the roles are casted quite well. As Fletcher we see Chris Spurgin who does a very good job. The only thing he might not success with all the way is the scene where he gets electrocuted. As Escobar we see Caleb Nunes and he is well casted. He looks very much like I imagined he would. As Heinz we get Russ Gross how looks quite crazy and as the female advisor to Escobar we see Caroly Dutton and I think she is the best casted of all the roles in the movie. She looks very much like the Frankenstein's bride she is described as in King's story.
In the Deathroom
is an interesting movie and as a Dollar Baby it works. Some of the plot might be hard to follow if you haven't read the story before seeing it but that is the price you often pay for a short film.
Lilja's final words about In the Deathroom
In the Deathroom
retells King's story well and if you take if for what it is, a Dollar Baby, you will enjoy it.