REVIEW
Captain Trips #3
Posted: November 12, 2008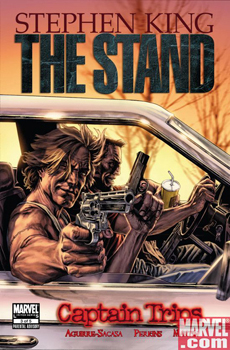 The third issue of
Captain Trips
is out and as with the two earlier issues this third one is absolutely perfect. I find myself loving every minute of it both when it comes to the illustrations, the coloration and the script.
Captain Trips
is really turning out as I hoped it would!
In this issue we get to meet Lloyd Henreid for the first time and we also get to see more of Frann, Nick, Larry and Stu and what happens to them. The story follows the book very tight and it really builds the mood in a good way.
Besides the story itself we also get a Q&A with Ralph Macchio who is the editor in charge for
Captain Trips
in which he talk about the comic. We also get a demonstration of what happens from the moment Roberto turns in his script and the issue is finished. The issue then ends with a taste of issue #4 and if these previews are representative for the whole issue we got nothing got worry about.
As I said,
Captain Trips
is a success and my only concern is how on earth they are going to fit the entire (longer version) of the book in 30 issues? And even though I have total fait in Roberto Aguirre-Sacasa and his script I have to say it looks impossible.

Lilja's final words about Captain Trips #3
What can I say? Just get the issue and enjoy!