Posted: July 17, 2020, 09:30

_

Five years ago today (July 17, 2015) I got the OK from Stephen King to use The Blue Air Compressor in my anthology Shining in the Dark.

The book was created to celebrate the 20th anniversary of Lilja's Library back in 2016 but was delayed and first saw the light of day in 2017 in Bulgaria.

Then in 2018 it was released in the US, Italy, Czech Republic, Germany, Sweden and the UK.

In 2019 it was released on audio in both the US and the UK as well as a paperback editions in the US and Serbia.

This year (2020) it's been released in Brazil, Sweden (paperback) and Bulgaria (audio) and before the year is over it'll be out in both France and another (to be revealed) language.

In 2021 it will be out in Greece and as we speak negotiations are beign held for two more translations.

12 different langages in 23 different editions in 5 years...not bad. I want to take this opertunity to thank every one of you that has read the book. I couldn't be more proud of it!

The book also contains stories by Jack Ketchum, P.D. Cacek, Stewart O'Nan, Bev Vincent, Clive Barker, Brian Keene, Richard Chizmar, Kevin Quigley, Ramsey Campbell, Edgar Allan Poe, Brian Freeman & John Ajvide Lindqvist.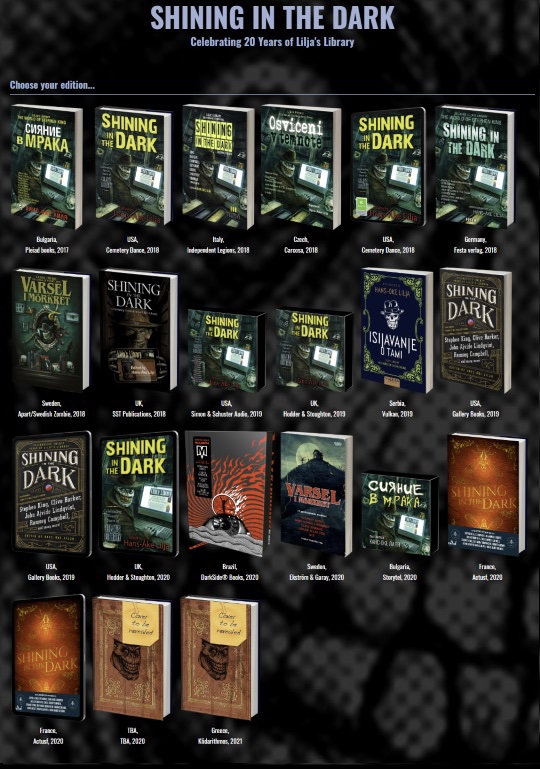 Official Site