Report From The Shining Stage Play
Posted: April 14, 2014, 15:57:40
Here is a recap of the stage play version of The Shining from a friend that attended.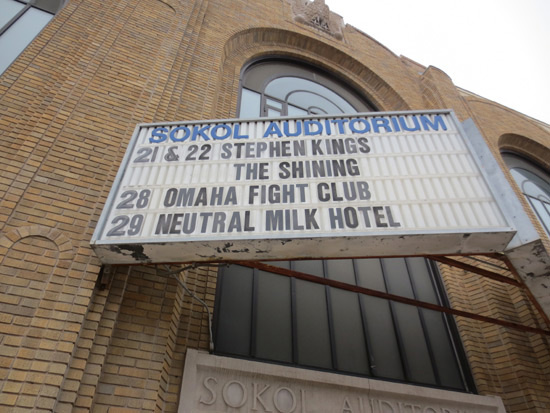 When we arrived at the theater a VW bug with 1974 Vermont plates and Stovington Prep Pride bumper sticker greeted us.



The playbill cover. Art by Jeremy Caniglia who's work we should all be familiar with. He is also born in Omaha so he is another local helping with the production. http://www.caniglia-art.com/about.htm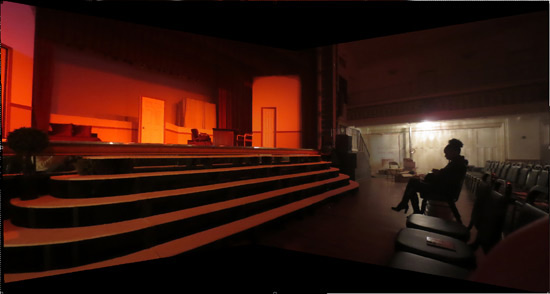 The theater was set up with seating for 800-1000 people. Off stage right (don't know my theater terms) is the basement/boiler set. There was a smoke machine they used when Jack spun the valve wheel. in the foreground is a chair and boxes. The boxes held the records of the Overlook. Above is a hotel hallway. There were life sized photos of doors taped to the wall. Looked like they were actually doors. There was some butcher knife/ roque mallet chasing up there.



Center stage has an upper and lower component. The upper is the interior of room 217 replete with shower. The lower stage is used for the majority of the production. The beds pull out for the scenes in the caretaker's quarters. Ullman's desk, a bar, kitchen equipment and chairs for a doctor's office were all brought in from back stage.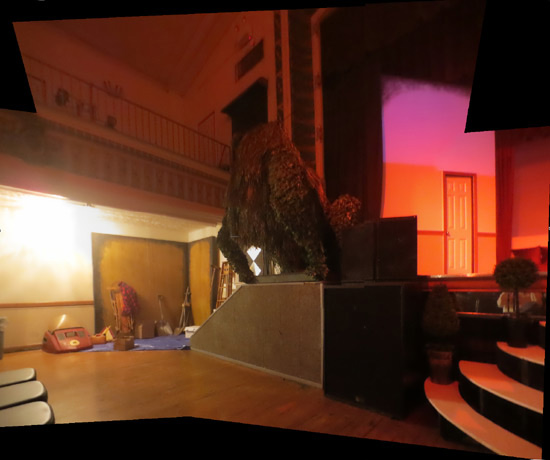 Stage Left holds the shed and hedge lion (which squatted moved it head). Above this was additional seating. Here you can see the snowmobile, the battery for which is on the stairs behind the topiary, and the roque mallet hanging by the ladder.



The topiary squatted. Whoever made it was a genius.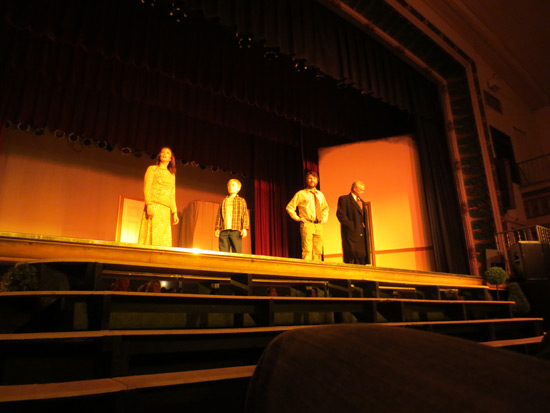 Mr. Ulman shows the Torrences the hotel.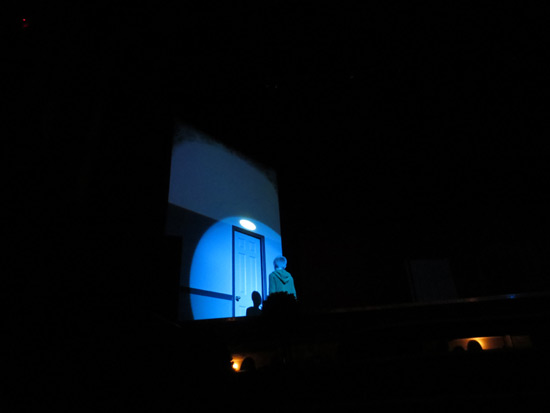 Danny deciding whether or not to use the passkey to enter room 217. The production used projectors to show things on 2 walls, this being one. 217 is in the white oval but the camera didn't catch it. They also showed the newspaper pages when Jack was going through them in the basement.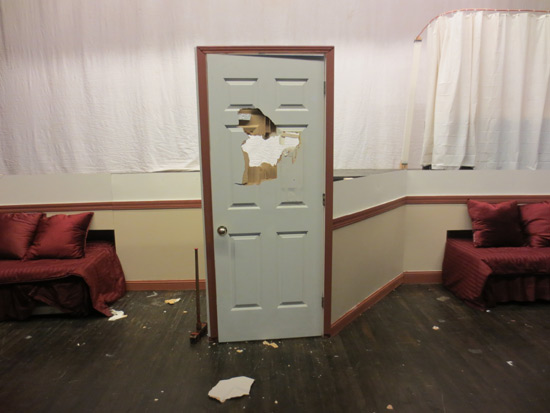 Jack got angry near the end. We attended the last show so Jack got to go wild on the only door the production had.



The Cast! (and writers and directors) I'm gonna get this wrong but here's my best shot. Left to right, back to front. Back back row : Garrett Sheeks (Lloyd & Lady in 217's boy-toy), Rasheed Allison "Spoozy Ali" (Dick Halloran). 3 unidentified (party girls mostly, I think the brunette played one of Grady's daughters), Christina Rohling (yellow dress. By far THE BEST Wendy Torrance of the three), unidentified (works for the theater fundraising if I remember right), Billy St.John (Ullman and Horace Derwent), Marc Ericson (Jack Torrence), Tag Ryan (Tony), Cheri Bloomingdale (Woman in 217), Christopher Scott (Dr. Edmonds), Tim Barr (Watson and the guy in the dog costume (the eyes glowed and mouth moved!!)). Unidentified little girl (played one of Grady's girls), Jason Levering (Director, Co-writer), Cristopher Levering (Danny Torrence), Aaron Sailors (Asst. Director, Co-writer).

Here are some clips.


Danny In Room 217


Unmasked


Door Goes Smash